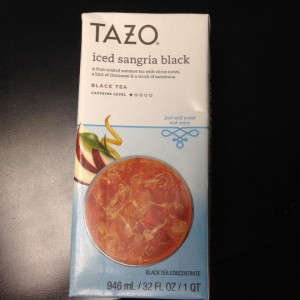 I'm on another YUMMY Smiley360 mission. This one is for TAZO® Iced Tea Concentrates
Experience a deliciously simple way to enjoy iced tea. TAZO® Iced Tea Concentrates are real brewed, concentrated liquid teas. Simply mix equal parts tea concentrate with water and enjoy. Or, get creative by mixing with lemonade, sparkling water or add your own favorite ingredients.
There are three flavors: Iced Passion
A radiant blend of hibiscus flowers, tropical fruit essences & a touch of sweetness.
Voluptuous hibiscus blossoms, perfumed with passion fruit essences, sidle up to long tall lemongrass. A forbidden fruit romance ignites, but ice cubes will quickly cool things down to a pleasant PG-rated affair.
Iced Peachy Green:
A refreshing blend of green tea, sweet peach, cool spearmint, ginger & a touch of sweetness.
On the grassy steps of an ancient amphitheater, you're the lone audience to a peach singing its floral melody to the spearmint sprigs inching toward it – there to witness the moment green tea, sweet peach and fresh mint birth a new harmonic.
MY FAVORITE Iced Sangria Black:
A fruit-soaked summer tea with citrus notes, a hint of cinnamon & a touch of sweetness.
Apple and orange play bocce in the yard while hibiscus, ever the summer hostess, sets the back-deck table with lime bowls, lighting cinnamon-stick torches and stirring a pitcher of clinking delight for a long summer evening with friends.
To learn more click HERE
GOT IT FREE and all opinions are my own. ~D