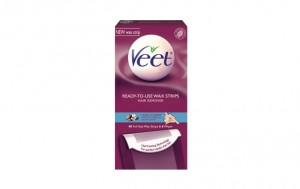 You may remember I did a post about belonging to Influentster. I posted pictures off all the fabulous FREE products they gave me in a Latina Vox Box. I eagerly tried all of the products except the wax strips. I've never used them before and, to be honest, was scared to death to do so. Until the other night… Before I continue here is a little bit about the product.
VEET Ready to Use Wax Strips, Leg & Body

This summer, keep your skin smooth for longer with VEET® Ready-to-Use Wax Strips for Legs & Body. The strips are specially formulated to remove hair on legs, underarms and bikini area from closer to the root than shaving for smoothness that lasts up to 4 weeks.

Where to Buy:

You can find VEET Ready to Use Wax Strips at Walgreens, Target, CVS, Rite Aid, Walmart!

Suggest retail price of the Wax Strips:  $9.99
The follow review is 100% my own. Though I was given the product for free, it was to review purposes only.
I after I showered I sat on my bathroom floor. I swear as I was reading the instructions I was shaking. My boyfriend on the other had was laughing. He stopped when I threatened to use the Veet on his chest.
I got the first strip and per instruction I rubbed it between my hands. I pulled the strips apart, placed them on my leg and rubbed more. By this time it was all or nothing, I counted to 3 and yanked the strip off. MOTHER OF GAWD IT HURT! There were a few places that the hair was still there. I was irritated, but not angry. I figured I did it wrong.
Long story short, I did the rest of my leg and then the other. The only thing I did different was just  to put the strip on my leg and rub and rub. It seemed to take off more hair that way.
I'm happy to report that it's been almost a week and I still don't need to shave. Since I made it though the ordeal alive and the screaming grew less and less I'll try it again.
~D