Since I first posted about Mobile Coupons more businesses have been  jumping on the mobile coupon bandwagon. While opting in to some of them, I got the brilliant idea of sharing them with you.  😛   Some of these are from my original post so I moved them to the bottom of my list.
Stores that Offer Smart Phone Mobile Coupons or Email Promo Codes: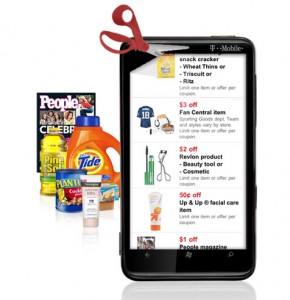 JCPenney's Mobile Apps ~  Up to 8 messages a month.
Redbox Text Club ~ Get a free rental code on the first Monday of each month.
Express Red Box Text Club ~ Free a rental code on the first of each month
Target Mobile Coupons ~ Up to 5 mobile coupons a month. (These are often stackable!)
Walgreen's Mobile ~ Up to 5 mobile coupons a month
Bath & Body Works ~ Up to 4 mobile coupons a month
**Remember ~ Normal text message rates may apply and you may have to use your phone's data plan to access coupons in store. Not all coupons or apps are available for all types of smart phones. On the flip side, many store coupons are stackable with manufacturer's coupons which can really pack a punch if you couple those with sale items!
Mobile Coupon and Promo Code App Services:
Yowza Mobile Coupon App ~ This app is available for iPhone, *Andriod and *Blackberry (*through a partner website). The biggest drawback for this service seems to be the lack of coupons available. Also the geo-locator may leave a bit to be desired. On the plus side, this app is FREE! I'm betting as time goes by and mobile coupons are more the norm, this site will offer much more.
Coupon Sherpa ~ The same idea as Yowza.  Not currently available for BlackBerry. BOOOO!
**Note ~ While these apps feature a wide array of stores, their content can be hit or miss. Check out the coupon or code with the store's customer service BEFORE shopping or be prepared to pay full price. The idea is that they offer you geographically relevant content (the app uses the GPS on your smart phone to determine what stores are in your neighborhood) to a variety of stores. Some are scannable coupons while others have promo codes.