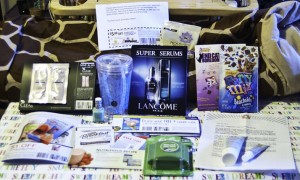 Here are some of the goodies I've received in my snail mail box this month so far.. As always 99% have a share option on Facebook so I use that instead of posting here. It gives you all a better chance of getting the goodies too!
Bodycology Wild Popppy lotion

Cat Boredom kit

Fabreeze air freshener

Coupon for free box of Drumsticks ice cream. YUM!

Lux nail polish

Carnation Breakfast drink

Clear Scalp Therapy Shampoo/Conditioner

(Self Giveaway) First Aid Beauty Ultra Lip Repair. Because the contest was in October and it took this long to award prizes they threw in a 2.5oz Ultra Repair Cream!!!