Once again WOO HOO FOR BULU!  Here's to another month of discovering a healthier ME. Here are the 5 samples + bonus I received from Bulu Box this month.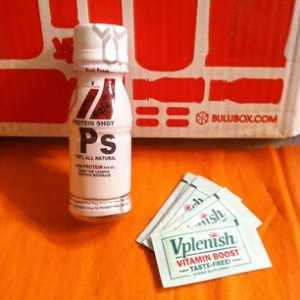 Elementz Nutrition ~ A protein shot. This little 2.5oz shot contains as much protein as four eggs without fat or extra sugar. This one bottle retails for $5- half the cost of your Bulu box right there!
Vplenish ~  It's a taste free vitamin boost that you can mix into anything. Does not contain calories, gluten, caffeine, artificial colors/flavors or preservatives. You can get 2,000 of these packets for $12.18 on Amazon. Making these samples worth less than a penny each.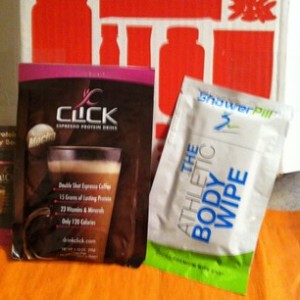 Click Espresso Protein Drink ~ A kick of espresso that meets the sustained energy of protein. It contains 2 shots of espresso, 15 grams of protein and 23 vitamins and minerals with only 120 calories. This sample is worth $1.93 (Came with $5 and free shipping off your first order)
BONUS Shower Pill ~ Athletic Body Wipe. It's the perfect body wipe for that midday workout when you just don't have time to take a shower and freshen up after. The cloth is 9″x 8″ and seems to be really thick. You can get a 10-pack for $12.50 making this sample worth $1.25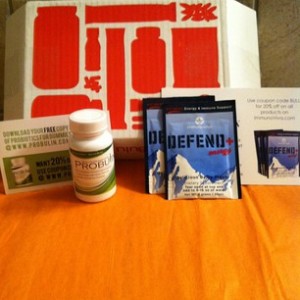 Probulin. ~ 5 day supply! This product is meant to replenish the good bacteria in your digestive system with seven strains of live microorganism probiotics.   This sample is worth $8.33 (This also came with a web address to get a free copy of Probiotics for Dummies AND 20% your order.)
Immuno-Viva Defend + Energy ~  This is meant as a boost of energy as well as support for your immune system. One of these packets (mixed with water) has 4x the amount of calcium as a glass of orange juice. It's also a way to provide natural energy and hydration. Each packet has a sample value of $1.17 (Also came with a 20% off coupon)
After totaling values it appears this box is worth $18.85. Almost double the subscription cost! This box came with one final offer. 🙂 I got a scan tag to send a FREE box to a friend.
~D