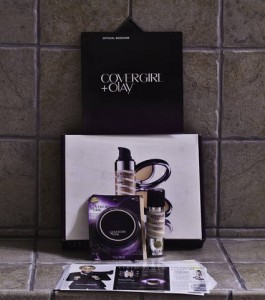 Hello, this is BzzAgent MizCouponista reporting for duty. 🙂 Once again I'm blessed to have been chosen to participate in a BzzCampaign. This time I get to play with make-up. I was sent a full-sized bottle of Covergirl & Olay Tone Rehab 2-in-one Foundation AND Covergirl & Olay Pressed Powder! Did I mention it was FREE. uh huh! Wait, I also got 20 coupons. If you want one,you know where to find me! 🙂
Within the next few days I'm going to stop my usual make-up routine and try this stuff out. I'll let you know how it goes.
~D
UPDATE: loved it. It blended so well nobody could tell I was wearing it!
On the flip-side, it made me break out on my T-Zone. I tried just using the foundation, same thing happened. Now wanting to give up I just used the powder alone. The coverage wasn't as good. I would still recommend it to others. Just not to those who have senistiv skin.
As a BzzAgent I received the make-up, and coupons to share. All opinions in this review are 100% mine.