October was a great month. I won several prizes and now I'm taking part in getting items for FREE for review purposes. It's been a busy month. So busy, my Samplebox blog is behind.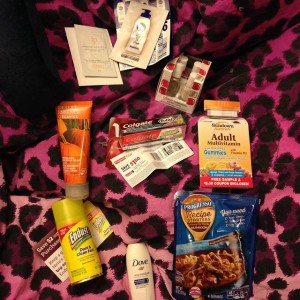 Nivea Lotion ~ Facebook
Essie mini 4PK the winter collection. I don't remember how/where I won this.
Desert Essence Pumpkin lotion ~ Won on FB promotion from company
Colgate toothpaste from VEO (find this on the iTunes store and download for freebies)
Sundown vitamins Adult gummies ~FB
Endust ~ FB
Dove body wash ~ Dove website promo.
Progresso Soups recipe kit ~ Betty Crocker monthly freebie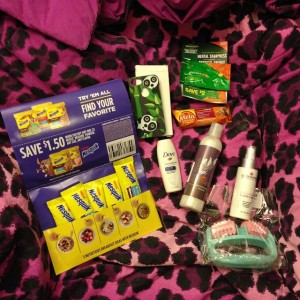 Nestle Quick 5 pk with coupon ~ FB
Panda hard shell case for iPhone 5 ~FB
More Dove Body Wash ~ VEO
Meta Bar from Metamucil FB promo
Energy tablet ~ FB
TeaTree Shampoo (review site)
Cellulite cream and messager (review site)
I can't disclose the review companies on here at this time, but start googling and you'll find them. 😉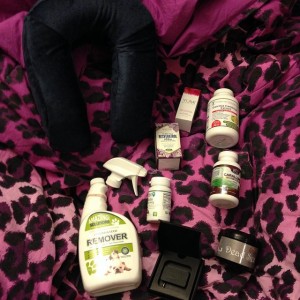 Neck pillow and various vitamins for review.
Dead Sea Mask for review
Pet stain/urine remover for review.