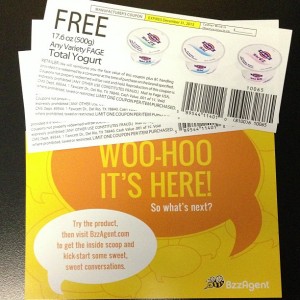 I'm on a new Campaign with BuzzAgent. This one is for Fage Greek Yogurt. They send me several coupons for FREE yogurt for me to try. So far I've loving it! My family does too. Next step is to try cooking with it. 🙂 THANK YOU BuzzAgent for my free coupons to try this tasty product!
This was taken from the BuzzAgent site…
The rich texture and full taste of FAGE Total makes it an incredibly versatile ingredient to have in your kitchen. Add fresh fruit for a perfect mid-day snack or a dash of honey for an indulgent dessert. FAGE Total is low in calories and fat, making it a perfect substitute for cream, mayonnaise and sour cream in many dishes.

Because it is rich in protein, FAGE Total is easy to enjoy at any time of day as a healthy part of your daily diet. Visit usa.fage.eu/recipes for a variety of exciting ways to incorporate FAGE Total into your diet.