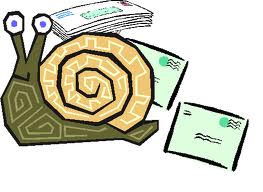 I'm finding that when I visit company pages, more and more are directing you to their Facebook site. When you "like" them you can print a coupon. What if you don't have a printer? What if you're always out of expensive ink? What if you just prefer getting correspondence the old fashion way. SNAIL MAIL!
I love getting mail. It just seems more personal, even if it's from Publisher's Clearing House claiming I've won their biggest prize ever. If it's addressed to ME I feel special. 🙂

So what's better than getting personal junk mail? Mail you asked for. Mail that has COUPONS! Mail that has SAMPLES! There are several companies you can write or e-mail to request coupons to be snail mailed to you. The following is a list of companies in general that offer coupons, freebie, or sweepstakes or contest you can enter.  The ones in BOLD are snail mail friendly meaning the link gives you their contact info to request coupons.

REMEMBER…
If you e-mail your request don't use your primary e-mail account. It will surely overflow with offers and you may miss REGULAR letters from friends and family. Set up an account specifically for coupons

You don't have to draft a huge letter. Just keep it simple. Express how you love their product. Ask if they would be willing to mail you coupons so you can continue to use their products. Perhaps tell them you've never used their product but have heard nice things about them so you'd like a coupon to try it out. You can also call companies and ask for coupons.  I'll personally stick to letter writing.
Are you ready to start?