Target is my favorite place to shop for many reasons. Even before I started stepping up my coupon game I always found amazing deals while shopping there. Having a Starbucks in the store makes it even sweeter. Now all I have to do is convince them to stay open 24/7.
Now to make sure you get the best deals here are a few things I've learned and I'd like to share with you.
Before I start here is their Price Match Policy & their Coupon Policy. I have these printed and in my coupon binder. Always arm yourself with store policies before you hit the check outs! 🙂

Types of Sales at Target:

Weekly Sale ~ A temporary price reduction advertised Sunday-Saturday and lasting up to 2 weeks.
Temporary Price Cut ~ A temporary price reduction lasting 1-8 weeks.
Price Cut ~ A permanent price reduction advertised for up to 90 days.
Clearance ~ A permanent price reduction often on discontinued inventory.  Clearance prices are good while supplies last.
Holiday Clearance Schedule

50% off day after holiday for three days

75% off fourth day after holiday for three days

90% off seventh day after holiday for 1-2 days.
Coupons:
Target has their own printable coupons. These can be stacked** with manufacturer coupons for added savings. You can find them on the Target website and they are also often included in the Sunday Newspaper inserts. (Varies by region. Here in Montana they are rare so you have a better chance finding them on the website.)
**There is a proper way to hand your coupons when shopping at Target: Always hand your manufacturer coupons first and then your Target coupons.
Mobile Coupons: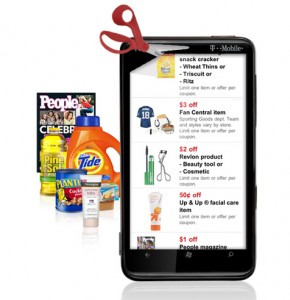 Get exclusive offers up to five times a month via text message on your web-enabled phone. Your first coupon will arrive 1-2 weeks after sign up. Register your cellphone here. When you're ready to redeem, just show your coupon barcode to the cashier, and with a simple scan your savings are applied.
Target Gift Card Promotions:
Target often runs gift card promotions. These promotions usually require that you buy a particular item (or number of items) and when you do so, you will receive a Target gift card at the end of your checkout. Most of these promotions are advertised in the Sunday fliers, but many are not so keep your eyes peeled while you're shopping.  here is an example.
Buy 2 Arm & Hammer Products, Receive $5 Target Gift Card

Arm & Hammer Cat Litter, 31 lb $10.99 x 2 = $21.98
$1.50/1 – Arm & Hammer Clumping Cat Litter – (armandhammer.com)

$1.50/1 – Arm & Hammer Clumping Cat Litter – (armandhammer.com)

Pay: $18.98, Receive $5 Target Gift Card
Final Price: $6.99 each, when you buy 2
A few ways to get Freebies while shopping at Target:
Combine Target Gift Card promotions with Manufacturer & Target store coupons. (See above example)
Stack a Target store coupon & Manufacturer coupon on the same item.
The last way to get free stuff at Target is by combining a temporary price cut or an every day price at Target with a manufacturer coupon & Target Coupon.
Finally….
Before you leave the store make sure to check your receipt to verify that coupon discounts you expected were applied. Also make sure to verify that all of the Target Gift cards you expected were awarded. It is easier to correct situations right after you complete the transaction than later.
~D