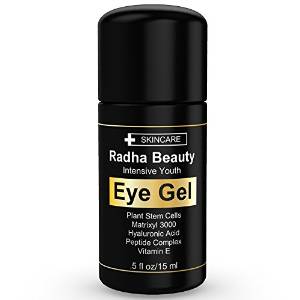 I got to try this amazing eye gel by Radha Beauty. it's an eye cream for dark circles, puffiness, bags & wrinkles. It clams to be the most effective eye gel. It contains plant stem cells, matrixyl 3000, hyaluronic acid, cucumber, vitamin E, aloe, MSM & More!
What I like about this gel is it's SAFE FOR ALL SKIN Types – Non-comedogenic, does not contain parabens, sulfates or alcohol. It's also 99% natural and organic.  I have sensitive skin so this is a must for me.
Before I continue I want to add that I work 12hr graveyard shifts so my eyes take a beating…
I love this gel. I carry it with me in my go back. It's cooling and really perks up my eyes. Come morning, you'd never guess I worked all night starting at monitors and such. My puffiness disappears and I don't have that tired look.
I will be purchasing more of this when I run out. I can't live without it!
Powered by BrandBacker
http://www.amazon.com/dp/B00NBAKXIA?psc=1