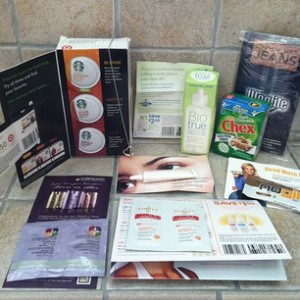 Here is what my Snail Mail Box had for me though out the week.
3-pk of Stabucks K-Cups with two high dollar coupons. This was a Target offer.
Hanging on the K-Cups is a heart necklace I got FREE via SaleADay.
A bottle of Biotrue Contact solution and 2 high dollar coupons. Also a Target offer.
Woolite Jeans detergent sample (I seem to be getting a lot of these lately!)
A box of cinnamon chex.
A nogii paleo bar
A Sample of WalMart's new "Simply U' haircare line. + coupon.
Sample of Shampoo/Conditioner from Pureology.
Full-sized tube of Meaningful Beauty Lifting Eye Cream by Cindy Crawford.
Pretty quiet week, but there is always tomorrow. 🙂
~D