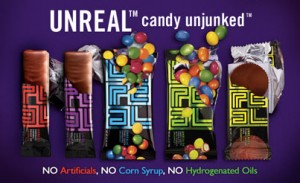 Hello, this is BzzAgent MizCouponista reporting for duty.

Once again I'm blessed to have been chosen to participate in a BzzCampaign. This time I get to eat candy! I was sent coupons for free Unreal candy and several coupons to give to friends.
I stopped by my local CVS a few days ago and bought one of each kind.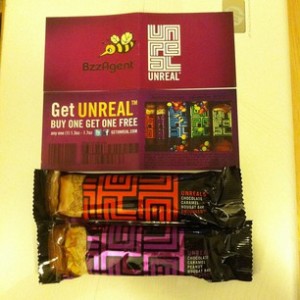 I love love love peanut butter cups so "UNREAL™ 77" was the first one I tore into. I shared with my boyfriend to get another prospective. He was undecided. I didn't like it! It had a weird taste and I'm sorry, but I have no other way to describe it. Sadly I think my body is so used to "junk"  that when I eat more healthy my taste buds freak out and revolt.
Not wanting to quit the next day I shared "UNREAL™ 54" which is basically like peanut M&Ms. My mom said the only difference was that they weren't as sweet, but other than that, they tasted good. Again,I wasn't sold. Bottom line, I may have to try them again. Then again, they may not be for me. The two in this —> picture will be given to co-workers so I can get their opinion.
Connecting people and their favorite brands since 2001, BzzAgent is the leading social marketing company. What's that mean to you? We put products in the hands of hundreds of thousands of real consumers and help them share their opinions about them with friends and family via reviews, Facebook posts, photos and videos, blog posts and more. We wouldn't call ourselves heroes, but it's okay if you want to.