Starting this Sunday, May 22 2011, CVS Pharmacy is running a promotion that will reward shoppers with free gas cards.I found this information on their website.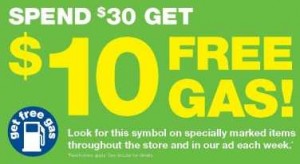 Fill Up the Cart, Fill Up the Tank

Participation is easy. Customers can find the qualifying products on the front and back pages of the weekly CVS/pharmacy circular beginning May 22, accessible in-store, online at http://www.cvs.com/ and on Facebook at http://www.facebook.com/CVS. All qualifying products will be tagged with a "get free gas" icon to make them easily identifiable. Eligible products will rotate each week, giving shoppers greater flexibility to fill their carts with the essentials they shop for each week.

Once ExtraCare customers reach the $30 required purchase threshold, a special coupon will print on their receipt that can be redeemed immediately in store for a $10 gas card. If customers prefer to wait to redeem their coupon they have up to 30 days to do so. Limit one redemption per week for each ExtraCare cardholder.
Now that I've been couponing I've starting shopping at CVS more. They have great deals and this new promotion sprinkles a little more sugar on top!
Thank you www.PassionForSavings.com & The Krazy Coupon Lady for sharing this.
~D