My postal carrier has been quite the busy bee lately with all of the free samples and coupons I have been receiving in the mail! This post is also going to be a bit bigger since I wasn't able to share anything last week. I tried to take pictures of everything, but as of yet my camera skills leave a lot to be desired.
I have placed links for the ones that are still available (as of this post).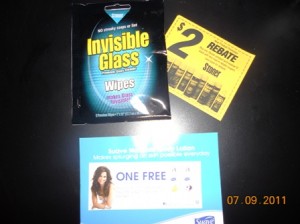 Invisible Glass + $2 rebate for new purchases.
FREE Suave lotion. 18oz. (Facebook NLA)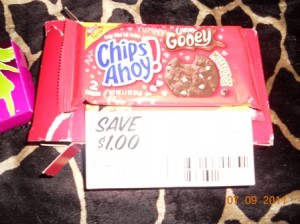 Chips Ahoy Gooey Cookie sample *burp* + $1 off purchase of 1 bag Chips Ahoy AND 1 Gooey Chips Ahoy 🙁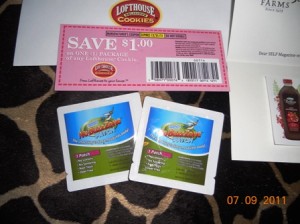 $1 off 1 Lofthouse cookies when you join Club Lofthouse (which sends you a coupon for a FREE package of cookies for your birthday!)
$2 off bottle of BoltHouse Pomegranate juice 52oz (Self Magazine offer NLA)
Two patches of NoBuzzZone bug patches. I don't remember signing up for these! 😛
FREE Gillette ProGlide Razor and 2/$2 off coupons. (Facebook offer)
O
ther samples include, Playtex Tampons & Pampers baby wipes. I also got my $5 Bounty coupon. A coupon for FREE So Delicious Coconut Milk. (I drink this like water!!) and 3 coupons for FREE Suave products: one for an 18oz bottle of lotion and two for any Suave styling product. (The hair dye was free, I posted about that coupon several weeks back.)