I had a few unopened envelopes before I left for vacation and when I came back HOLY COW I had a pile. I think I've gone through it all… I think? Sorry for the image quality. Steve is working on his bike so I'm left to fend for myself. LOL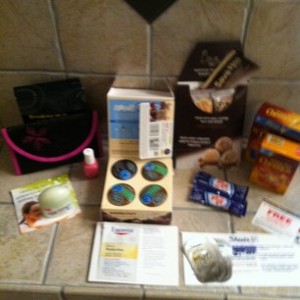 In this shot there is a wristlet with pads/liners/tampons.
Pink bottle of Essie nail polish I won in July.
Tom's deodorant from Wal-mart (and coupon)
Eucerin lotion with coupon
Miracle Whip with a coupon
Green Mountain Coffee K-cup 4-pk sample (love these!)
Nescafe' Memento samples
Two Cheerios samples
Sleep Sheets (instead of energy, they help you sleep)
Coupon for a free package of Hot dogs or Bacon. w00t!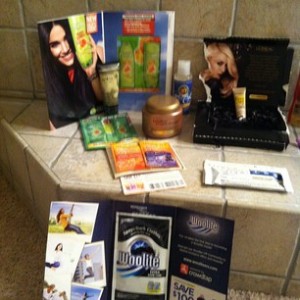 Two different samples of Garnier Fructis with coupons
NICE size bottle of Wen "Conditioning Cleanser"
My Organics hair mask I won from Poshly
Eco laundry soap
L'Oreal sunblock (kitties tried to help me open the box :-P)
Simple Bar with coupon
Emergen-C with coupon
Woolite for Jeans with coupon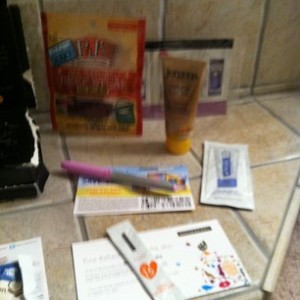 PJ's Beef Snack
Jergeons Glow Lotion
TriCalm itch releaf
Bic Marker I won in June (with coupon)
Snowberry Face cream
John Freida Sample
….and that is all! 🙂
~D