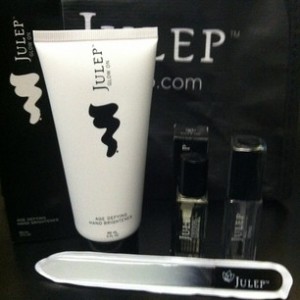 I finally got my Julep Maven for September. I did something different. Instead of getting my normal box, I chose a Product Lovers' "Mystery" box. I paid the same price, but another part of the mystery is that your box could be worth up to $200!  So what did I get?
Another Julep tote. I only have two so I'm not tired of them yet. LOL I also got Age Defying Hand Brightener ($32 for a 3 oz bottle),  a glass nail file ($6), fast dry topcoat ($14, .27 oz) and the cuticle oil ($18, .28 oz).  A $70 value!
Boo! Not bad, but maybe next time I'll get the $200 box. Yes, there will be a next time. Mystery boxes are fun and it's a break from monthly polish boxes. Though a girl can't too much polish right? 😉
The mystery boxes are no longer on sale, but if you like the idea of a monthly nail polish subscription service and want to help a nail polish junky out, you can use my referral link.  Enter the promo code MAVENINTRO and your first box is just a penny!