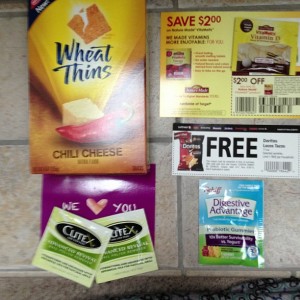 I couldn't wait until the end of the month to posts freebies. My pile was getting huge!
Wheat Thins Chili Cheese ~ Twitter offer. Still live.  They offer it daily so you have to be on the lookout.
2 Cutex nail polish remover pads ~ Poshly (if you haven't joined Poshly I recommend you do so now. I ALWAYS win products and get random freebies sent to me via snail mail.
Nature Made Vita Melt ~ Target
Doritos Locos FULL SIZE bag redeemable at Safeway. FB offer
Schiff Digestive Advantage probiotic gummy ~ Target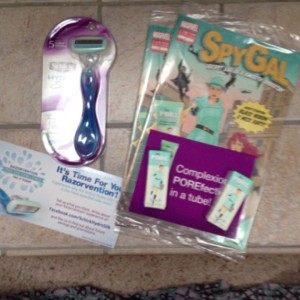 Schick razor + High value coupons ~ Text offer. Still live. Text SCHICK to 24444
2 Benefits POREfessional samples with a cute little comic. Inside the comic is yet another sample of POREfessional ~ Poshly (See, I tell ya, you should join!)
What has your mail carrier left you lately?