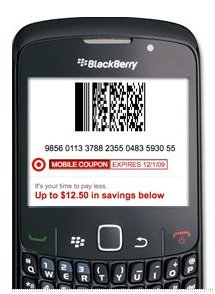 All Target Mobile Coupons have a limit of 1 per item, which means they can only be used once.
$1/1 Tide Laundry Detergent
–Excludes Trial Size
$1/1 Bounty 6 ct or + paper towels
$1/1 9 pk or Larger Charmin Tissue
$1/1 Pampers Box Diapers
$1/1 Luv's Boxed Diapers
$.50/1 Zzzquil Sleep Aid
-12 or 24 oz liquid
-24 or 48 Liquid Caps
$1/2 Crest Pro-Health Care Items
–Excludes trial/travel
$1/2 Feminine Care Items
-Tampax or Always
-Excludes trial/travel
$3/1 or 2 pk 10 oz BioTrue Lens Solution
$1/1 Olay Complete Facial Skin Care
-Excludes travel/trial
$3/2 Pantene Hair Care Items
–Excludes travel/trial
$2/1 Clairol Hair Color item:  Natural Instincts or Nice & Easy
$2/2 CoverGirl Cosmetic Items
-Excludes trial/travel
$10/1 John Frieda Hair Color wyb JF Shampoo and Conditioner
$5/50 4×6 Basic Prints
*Note: If you didn't get your text message for your new Target Mobile coupons, and you've already signed up, text OFFERS to 827438. If you get an error message when you try and pull up your coupons, try re-texting OFFERS to 827438. It should give you a different link that will work.