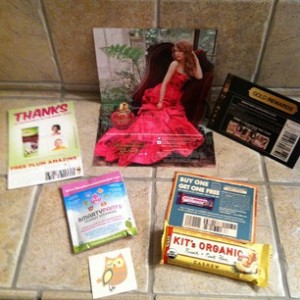 Here is what my Snail Mail box had for me this week.
Sample of Taylor Swift's "Enchanted Wonderstruck". I actually like it! It reminds me of "Poison" by Dior. OH and the memories that brings. 🙂
L'Oreal's Gold Club rewarded me with a coupon for a FREE box of hair color.
Kit's Organic fruit & nut bar ~ cashew. YUM! + BOGO Coupon. *hot*
Sample of  "SmartyPants" gummy vitamin for kids/adults. and a cute owl tattoo. This is courtesy of "Swaylo" on Facebook. The application I've been spammming you all with. This is the second "Perk" I've received by them.
Coupon for FREE Plum Amazins by Sunsweet.
I hope your snail mail box was good to you too! ~D