YAY I got my first Beauty Box 5 today. I only signed up two weeks ago. (I opted for the quarterly plan ~ $30)  If that's how they're going to be, this is going to be a beautiful relationship! OH and I'm beyond happy with my box. Take a peek!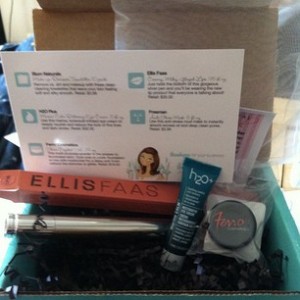 Ellis Faas Milky Lips shade L206 ~ The FULL-SIZED bullet shaped pen is impressive. You need patience though. It took A LOT of twisting before my gloss appeared. When it did I tried it out and it was creamy, not sticky and the shade actually looked nice. I never would have chosen it otherwise. I never would have tried this brand either. The glaze retails for $35! (there was a coupon for %15 your order if you so choose to purchase more of this product.)
H2O Plus ~ Marine, botanical-infused eye cream to reduce the look of fine lines. YES I need this product! I will be trying it before work tomorrow night. Retail $32
Ferro Cosmetics ~ Sheer Crystal Veil. This is a powder to "dust" over or under foundation for a dewy soft finish. You can also mix it with moisturizer. Not really my thing, but it looks cute. (Also came with a discount coupon.)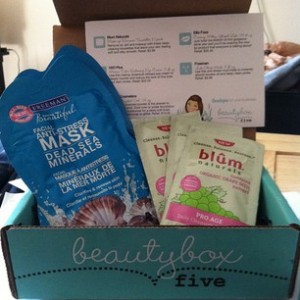 These last two items I know for a fact I will use!
Blum Naturals ~ Make up Remover Towelettes. I got 3.  A 10 pk retails for 3.99
Freeman ~ Anti-Stress Mask x 2. A single one retails for 3.99.
So for my first BB5 I am impressed and excited to try ALL the items from my pretty little blue box.
~D