I got my boxes last week, but didn't have a computer to post. This month I'm not too impressed with my box, but I'm still happy with Bulu. Here is what I got. BTW sorry for the crappy picture. I used my Instagram with the assistance of 3 cats. They kept bumping me causing the picture to come out shaky. I finally gave up and settled for this one.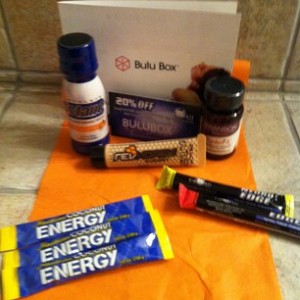 The bottle is Athlete Octane Liquid Endurance Shot ~ Astronaut Orange. I don't like orange flavor so I'll pass this on to someone else.
Rev Honey (the tube) honey snack for energy. Peach flavor. For not being  big peach fan (yes, I'm picky) it tasted really good. I think it's too sweet to suck down all at once, but I'm willing to take it to work and see if it gives me enough energy for my 12 hour shift. (It didn't)
A full bottle (60) Swanson Razberri-K. Since raspberry Ketones are the newest "thing" I'm not surprised to get this. You're supposed to take two a day with water to curb hunger. I'm on the fence about trying it. I'm going to have to research more.
Eight Ball Neuro Edge. "Gently" mix with water. Hummm ok. Another energy sample. They read my mind. I can ALWAYS use energy boosts.
Hawaiian Coconut Energy ~ wooo more energy samples. I LOVE coconut anything. I'm nervous about trying it though. The first box I got had Green Tea and it make my throat swell. Not shut, but it was still uncomfortable.
So there you go. My Bulu Box for September.
~D