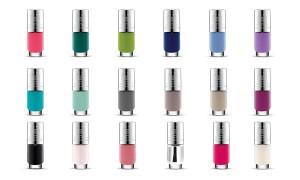 The Body Shop
now has a new nail polish line!
Expand your AOV and help us promote these new nail accessories along with our new Colour Crush line!
Nail Art Pen – This double-ended tool is like a magic wand for nail art. Finer side: Pinpoint accuracy for smaller dots and fine lines. Thicker side: Draw big dots and fill in large areas smoothly.
New Sweet Almond Oil Nail Polish Remover – 4-in-1 caring formula with sweet almond oil, soya oil and Community Fair Trade sugarcane essence. Acetone free, Conditioning formula, Softens nail cuticles and Non-drying formula.
Gentle Nail File – Give your nails a perfectly groomed look with our Gentle Nail Filer. This easy to clean, elegant looking acrylic file is a must-have accessory for keeping your nails looking perfect on the go.
New! Colour Crush™ Nail Polish + Buy 3 and Get Free Shipping!
Which Colour Crush color is right for you? Take the Nail Happiness Quiz