So I'm starting to get addicted to this subscription box craze. While I vacation I got my first BirchBox. Prior to signing up I'd read pros and cons of this subscription.  I decided to give it a go anyway and like my other scripts there is a 3 strike rule. This month's box is meh, but not strike worthy.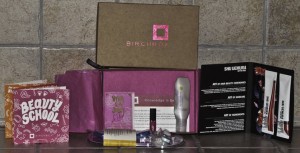 There seem to be monthly themes to these boxes. This month is "Beauty School". I got a little booklet telling me about all of my products, how to use them and what a full-sized product would cost.
From L to R ~ Juicy Couture's Viva la Juicy La Fleur. Retail $70
A tiny lip gloss from Jouer. TOTALLY not my color. I don't do pinks. This will go in a prize bag for sure. Retail $20
A Schick Hydro Silk razor with coupons. I love this razor, I currently use it. Retail not listed, but as a couponer I rarely pay more that $2 for razors. 🙂
Apothederm Stretch Mark Cream. I can't wait to see if this works. Retail value is $89.95!
Last goodie is a sample of SHU UEMURA Art of Hair Illuminating Shampoo & Treatment. Shampoo retails for $48 and the treatment goes for $58
So far I'm excited to actually try all the products with the exception of the gloss. I also feel I got my $10 worth. Would you like a box of your own? Visit www.Birchbox.com
~D