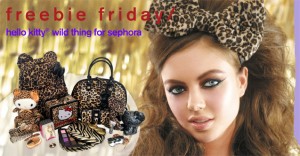 It's an inarguable fact that we love animal prints just about as much as we love Hello Kitty. Another truth? We love our beauty products.
So thank you, Sephora, for bringing together these three things in one amazing collection. The limited-edition Hello Kitty Wild Thing series, exclusive to the beauty retailer, features a range of show-off-on-your-vanity must-haves. Think tiger stripe combs, zebra print makeup palettes, and a spotted brush set, among others.
You can shop the collection on Sephora right now–but two lucky readers will get something even more exciting: a set of goodies for free.
Our grand prize winner will receive a Hello Kitty Wild Thing collection beauty bundle–which comes with two palettes, two compact mirrors, a brush set, a comb, a roller, and a bag, as well as a leopard print head bow–along with a lunch box, patent embossed tote bag, patent embossed wallet, watch, and key cap from the Hello Kitty Loungefly collection. That's not all: One runner up will receive the Sephora Wild Thing beauty bundle, as well as a Hello Kitty Loungefly leopard backpack.
All it takes to make this insanely amazing prize pack your own? Just click here to enter for a chance to win.