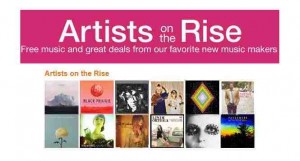 Each month, Amazon
shines the spotlight on new artists they think you'll love and give you a FREE track from each. They also give you the option to just download the ones you like so you're not stuck with the unfavorable ones. Most music samplers are all or nothing. If you like what you hear, you can pick up each artist's latest release for a great price on the following month. I love this because it's turned me on to so many new artists and music genres.
Here is a list of this months Artists on the Rise
. ENJOY and let me know what you think of theses songs.
Cold Nights ~ How To Dress Well
How Do You Ruin Me? ~ Black Prairie
Conditioning ~ Cadence Weapon
My Love Won't Wait ~ Two Gallants
Everybody's Heart's Breaking Now ~ Lavender Diamond  ( I love LD)
Nessun Dorma ~ Nathan Pacheco
Presence of Mind ~ The Fresh & Onlys
Poinciana ~ Elizabeth Shepherd
Pauvre Coeur ~ Jillette Johnson
Cigarettes & Truckstops ~ Lindi Ortega
Moonbeams ~ Family Band
Let Her Go ~ Passenger