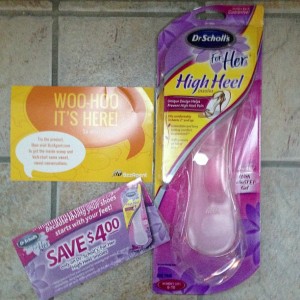 This is BuzzAgent Denise and I'm on a new mission. WOW it's been a while.
This mission involves trying Dr. Scholl's For Her High Heel Insoles. I was sent a pair of insoles and 8 $4 off coupons to give  away! Than k you BuzzAgent!
Become a believer

Your feet were made to take you places, but your favorite fashionable shoes? Those can make the journey uncomfortable. Luckily, there's a way to make any shoe all-day wearable, from simple flats to dazzling heels!

Dr. Scholl's® For Her is the first full line of foot care products designed specifically with women's needs in mind. Whether it's insoles for heels and flats, or anti-friction products to help prevent shoe rubbing and blisters, the entire collection enables you to enjoy the things you want to do – not just the things you need to do – by enhancing foot comfort.

Take a step towards happier feet today with Dr. Scholl's® For Her High Heel Insoles — they're clinically proven to improve the way you feel in heels 2" and up. After all, shouldn't your footwear feel as great as it looks?