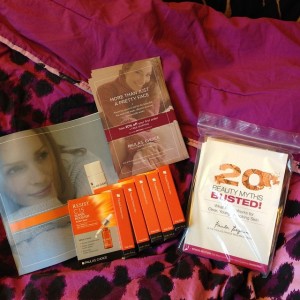 Hello! BuzzAgent Denise is back with another campaign.
This is for Paula's Choice Resist C15 Super Booster
I got 5 "Beauty Myths Busted" booklets
5 Resist C15 Super Booster Serums
Paula's Choice Fall/Winter catalog
5 20% off coupons.
Can't wait to share!
Don't let your skin give away your age. Thanks to Paula's Choice the only secret when it comes to smoother, brighter and firmer skin is what you choose to tell people about your date of birth.

After using Paula's Choice Resist C15 Super Booster for a few weeks, dark spots and wrinkles will be a distant memory. The light-as-water formula blends 15% stabilized vitamin C, antioxidant vitamin E, ferulic acid and peptides to repair visible signs of aging while stimulating collagen production for dramatically younger, healthier and more radiant skin.

Mixed with your moisturizer or used on its own, the Resist C15 Super Booster not only handles the unwanted signs of aging like wrinkles and dull skin tone, but also fades acne scars and subdues redness. Since it won't clog pores or cause breakouts, it's ideal for anyone looking to give their skin a boost!
#GotItFree Thanks to BuzzAgent.