I got my first Bulu Box* a few days ago. I would have posted sooner but I'm too preoccupied packing for our trip. 🙂 So before I get my August box I thought I better share July's box. I have tried only one of these products, the Coromega, as for the rest, I'll update when I do.
The Cost: $10 a month (Use coupon code woohoo10 for your first month FREE!) The Products: Samples including vitamins, supplements, sports nutrition, meal replacement, diet, energy, protein, detox, digestion, sexual health, herbs, natural remedies, endurance and more.
July Bulu Box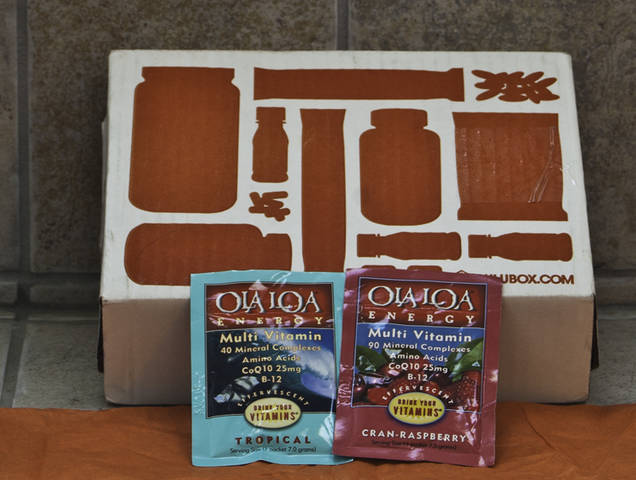 Ola Loa Energy Multivitamin drink mix.
(2 packets: Tropical and Cran-Raspberry) – Value $1.50 Total
From Bulu Box: "With refreshing effervescent delivery, your body will absorb 98% of the nutrients in Ola Loa. Stir into water or juice!"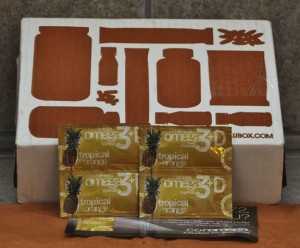 Coromega Omega3+D Squeeze ~ Value $1 Total
From Bulu Box: "Omega-3 and Vitamin D help ensure the health of your heart. Eat one yummy packet alone or squeeze it onto your favorite snack." Adios fishy burps.

I've actually tried these and I don't mind the taste at all. It reminds me of an orange dreamcicle ice cream. They are convenient to tote around too. It's also true about the fishy burps. NONE 🙂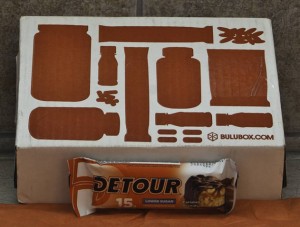 Detour Lower Sugar Whey Protein Bar (Caramel Peanut) – Value $2.30
From Bulu Box: "With up to 83% less sugar, this bar delivers all of the body-shaping nutrition of the original but with amazingly low levels of sugar."
There is also a code for 25% off and online order from DetourBar.com. The code is DET25. It expires the end of this month, but with the code you can get these as cheap as $1.04! That is a steal for any nutrition bar.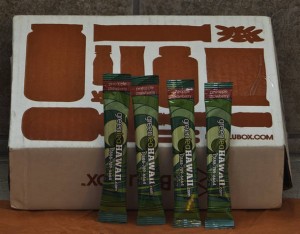 Green Tea Hawaii Packets – (4) Value Approx $5 total
From Bulu Box: "When stired into water, Green Tea Hawaii gives you the full benefits of 70 regular cups of green tea in 2 packets."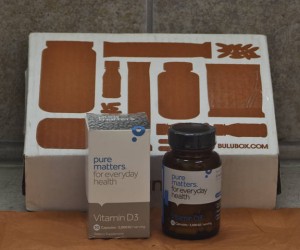 pure matters for everyday health Vitamin D3 30 day capsule Value 12.95 but no other info given.
All in all I'm happy with my first Bulu Box. It got well over $10 worth of product and I'm genuinely interested in trying each one.
**Disclosure: I received the Bulu Box for review purposes. All opinions are my own.