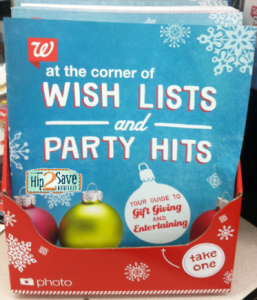 There is a great NEW Walgreens Wish Lists & Party Hits booklet available in stores! Inside you'll find $40 in savings so you'll definitely want to pick one up. I found mine next to the Photo Counter but your store may also have them near beauty, by the registers or where the weekly ads are kept.
So, here are all the coupons you'll find! They don't expire until 12/25/12 so you've got quite a bit of time to use them. 😉
$1/1 Almay Intense i-Color Trio
$1/1 Bauducco Panettone Specialty Cake
$1/1 Cover Girl Clump Crusher Mascara
$0.50/1 Cover Girl Outlast Stay Brilliant Nail Gloss
$1/1 Dickinson's Witch Hazel Skin Care
$1/1 Dream Water Shot Snoozeberry 2.5oz
$5/1 Energizer 10 Watt Car Charger, 10 Watt Home Charger, USB Cable, 6 LED Headlight & Folding LED Lantern
$10/1 iHome AM/FM Radio/Alarm Clock for iPad, iPhone or iPod
$1/1 L'Oreal Infallible 24 Hour Eye Shadow, Colour Riche Nail or Colour Riche Lipcolour
$2/1 L'Oreal Revitalift Triple Power .5 to 1.7oz
$5/1 Luster 1 Hour White
$1/1 Mabelline Colossal Volum' Express Cat Eyes Mascara .31oz
$2/1 Pedigree Dentastix 25pk or Cesar Canine Cuisine 12pk
$0.50/1 Purina Beneful Baked Delights Dog Snacks 11oz
$1/1 Revlon ColorStay Ultimate Suede Lipstick or PhotoReady Primer + Shadow
$1/1 Rimmel Scandaleyes Lycra Flex Mascara
$4/1 ScentBeads Candle Jar 13.5oz
$2/1 Sensational Color or Gel Kits
Note: These are all Walgreens coupons. To redeem the coupons you must first scan your Balance Rewards card.