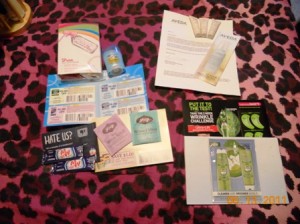 I had another good week last week with freebies. It gets better every day!
*Clock-wise*
The Aveda one is no longer available. It was for the first 20,000 on FB. If you follow me on FaceBook, I share everything I sign-up for.
Sample of Garnier Shampoo/Conditioner and Anti-wrinkle cream + $1 coupon toward any Garneir Moisturizer. I got this via the WalMart sample page. It's no longer available. 🙁 There are always offers there so bookmark that page!
I've received the Yogi Tea samples before and it really is good tea. They are generous with their samples as well. This time I got two with a coupon. Last time I got four. The link allows you to send a Well-Wish to a friend, then you get to choose two teas for yourself. 🙂
The only reason I signed up for Miracle Whip is because my brother uses it on EVERYTHING. Ok, not everything, but it seems like we're buying it weekly. Sadly, no coupons came with the sample.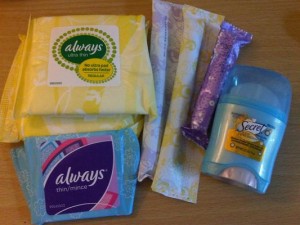 Finally I got this All-In-One Survival Kit from P&G. The sample is actually from their BeingGirl.com site. I just love the cute little deodorant. It's perfect to keep in my purse or locker at work. In the picture above you can see (if you look REALLY hard) that it also came with 4 coupons.
I'm going to blame Steve for the above picture. Unless it's bikes, hammocks or computer related I have to beg him to help me take pictures and stuff.
I hope you're snail mail box is getting love too! Please feel free to post what goodies you get too~
~D