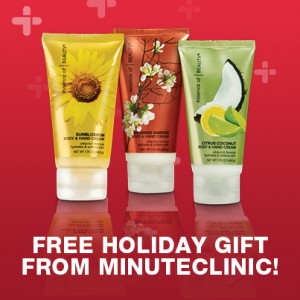 Baby it's cold outside!! And when the weather starts to get cold and dry, so does my skin! I always keep a bottle of lotion in my purse, glove compartment, and ever where  else I'm at in the winter!! Hurry and grab yourself a FREE bottle of lotion from CVS MinuteClinic!! Simply head over and "like" them on Facebook – then print yourself a coupon to take in with you on your next trip to CVS!
Grab this freebie here -> Free Bottle of Lotion from CVS MinuteClinic
The Best Winter Uses for Hand Cream
Stop static cling. Rub a few drops of cream evenly on your palms, then lightly wipe over your blouse or skirt to remove static cling. Awkward sticking, begone!
Tame flyaways. Give stubborn strands a light pat down with lotioned hands to keep flyaways under control.
Shine your shoes. Put a drop or two of cream onto a soft cotton cloth, then gently work it into leather shoes. Hello shiny!
Heel replenishers. Why splurge on a pedicure when sandal season is so far away? Heal dry, cracked feet while you sleep by applying cream to them, then putting on thick socks and wearing overnight. You'll wake up soft & moisturized from heel to toe.