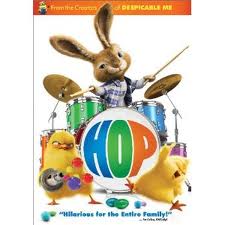 YAY! HOP is being released this Friday, March 23!  Here are some specials I've found posted around the web. If there are any good deals in the NW, that you know of, please share.
Albertson's ~ Buy a HOP DVD $16.99 OR  Blu-ray Combo Pack $21.99  GET a Hershey's Jolly Rancher Candy , Emerald Dry Roasted Peanuts FREE, plus save $1.00 on Crayola 24 ct crayons.
Best Buy ~ Blu-ray COMBO pack $22.99 Exclusive 7″ Bunny Minion Plush
Safeway ~ Buy DVD $16.99 OR Blu-ray Combo pack $19.99 Get FREE One (1) Sour Patch Kids® or Swedish Fish® Candies 8-oz. bag selected varieties + One (1) Capri Sun® Beverage Product 10-count pack, 6-oz. selected varieties + One (1) Nabisco® Snak-Saks 8-oz. bag selected varieties
Target ~
Blu-ray+DVD+digital COMBO with wearable bunny ears $22.99.
DVD without ears: $16.99 
SAVE $5 instantly when you buy the Target-exclusive editions of Hop AND Despicable Me.