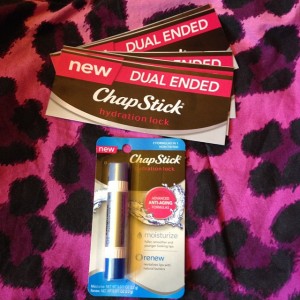 I'm on a new Smiley 360 Mission.
Your Smiley Kit contains:
• One (1) ChapStick® Hydration Lock Moisturize & Renew or One (1) ChapStick® Hydration Lock Day & Night
• Five (5) printed coupons to share with family and friends
• Link to $0.50 off ChapStick® Hydration Lock coupon
• One (1) Smiley360 Sharing Guide with ideas for your video debut!
To learn more visit HERE
ChapStick® Hydration Lock Moisturize & Renew

New ChapStick® dual-ended Hydration Lock Moisturize & Renew with advanced anti-aging formulas, delivers advanced moisturizing benefits for fuller, smoother and younger looking lips, and helps reduce the appearance of fine lines.

The Moisturize side includes antioxidant CoQ10 and Hyaluronic Spheres. This formula is specially designed for long-lasting hydration to help give lips a fuller and smoother appearance. The Renew side is made from natural butters such as Shea and Mango, and softens, conditions and revitalizes lips. Both sides of the new dual-ended Hydration Lock are clinically proven for healthier looking lips.
So far I'm really loving it and my co-works snatched up my coupons! 🙂 Here is a link for more coupons: https://www.chapstick.com/coupons/rt-1?channel=Social&smileysource=missionpage
**I got this free from Smiley360 for review purposes.