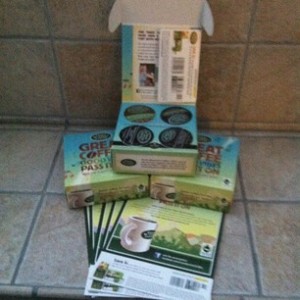 Hello, this is BzzAgent MizCouponista reporting for duty.   This campaign involves the consumption of YUMMY Fair Trade Green Mountain Coffee. I didn't know this, but October is Fair Trade month.
I was given 3 boxes with 4 K-cups of various flavors and coupons to share. The flavors I was sent include: Wild Moutain Blueberry, Sumatran, Colombian Fair Trade Select, & Vermont Country Blend.
I've tried the Vermont Country Blend. I really REALLY liked it. Smooth,  and full of flavor. The aroma filled my kitchen and permeated through out the house. 🙂

Another fantastic aspect of this campaign is that by drinking Green Mountain Coffee I'm supporting Fair Trade Communities. Here is a little bit about Green Mountain Coffee:
As a leader in specialty coffee and coffee makers, Green Mountain Coffee Roasters, Inc. (GMCR) (NASDAQ: GMCR) is recognized for its award-winning coffees, innovative brewing technology, and socially responsible business practices. GMCR supports local and global communities by offsetting 100 percent of its direct greenhouse gas emissions, investing in sustainably-grown coffee, and allocating a portion of its profits to socially and environmentally responsible initiatives.
To help support Fair Trade, during the month of October musicians Grace Potter and Michael Franti are celebrating Fair Trade Month in a big way with "Great Coffee, Good Vibes, Pass It On" ~ an awareness campaign that will celebrate the good vibes of fair trade through free concerts and an opportunity to win a trip to Costa Rica, one of many locations where Green Mountain Coffee Fair Trade Certified™ coffee is grown.
To celebrate Fair Trade Month, both Potter and Franti will give exclusive performances streamed live on the Green Mountain Coffee® Facebook page. Fans are invited to RSVP for the events at Facebook.com/GreenMountainCoffee and experience the good vibes firsthand:

Oct. 9 at 9 p.m. EST/6 p.m. PST — Grace Potter will perform live from famed music venue Joe's Pub in New York City. Potter's set will feature unique acoustic versions of songs from her new album, The Lion The Beast The Beat.
Oct. 24 at 11 p.m. EST/8 p.m. PST — Michael Franti will rev up Los Angeles from the first-ever Great Coffee, Good Vibes Lounge, brought to you by Green Mountain Coffee. Fans will be able to visit 7111 Melrose Avenue on October 24 and enjoy a free cup of Green Mountain Coffee Fair Trade Certified™ coffee.
I hope you'll tune in and enjoy a cup of Green Mountain at the same time. 🙂