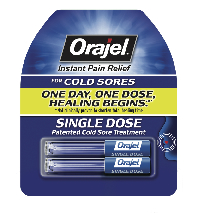 On another Smiley360 Mission!
This one is for Orajel™ Single Dose Cold Sore Treatment.  I am lucky that I rarely, if ever, get cold sores. For that reason I almost passed on this mission. I decided to get it after all just in case. 🙂 I'm glad I did! I recently got a nasty sore on my lower lip.
To learn more about the mission visit HERE
Thank you Smiley360 for my Free Orajel to try in exchange for a review.