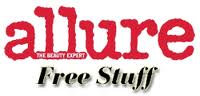 Starting 2/3/2013 allure magazine will be giving away free beauty products to the first 500 readers who sign up at 12-NOON EST (11am Central, 10am Mountain, 9am Pacific). Mark your calendar with the following dates now and be ready:
Feb 3: Free Schick Hydro Silk Disposables
Feb 4: Free Redken Control Addict 28 Extra-High Hold Hairspray
Feb 5: Free Vapour Organic Beauty Mesmerize Eyeliner With Blending Tool in Truffle
Feb 6: Free Essie Sleek Stick Collection
Do not enter until 12pm EST, even if the entry form is available earlier. Note: You will not find out that you're a winner until you've received the item in the mail. Delivery may take 2-4 months.