Almost 2 months ago I signed up with a program called Influenster. From their website:
Apply to our trendsetter community and use your influence to qualify for complimentary PRODUCT SHIPMENTS, REWARDS & DEALS fit for your lifestyle. The more active you are, the more perks you get!
I love snail mail boxes, and I am always doing a survey for someone, so I figured why not. I imagined it would be months until I was chosen for a "VoxBox", but I wasn't brooding about it. Most programs ask for 100% participation on several occasions before you are up for perks. To my surprise I was chosen a few weeks ago for a Latina VoxBox. It arrived a few days ago. 🙂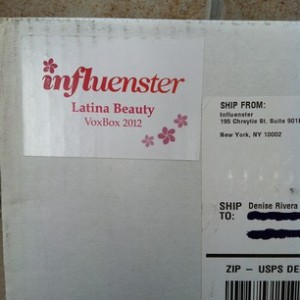 I considered doing a video of my box, but I chickened out. I also just returned from a 2week vacation and I'm beat. So for now I'm just going to show you what goodies I got and in a week or so I'll review the products either in this same format or *gulp* a video.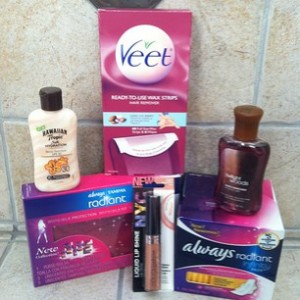 My Latina Beauty VoxBox contains the following:
VEET Ready to Use Wax Strips, Leg & Body $9.99 (Scared to death to try this, but I'll be a trooper!)
NYC New York Color Liquid Lipshine. $ 2.49
NEW Bath and Body Works Shea-Enriched Signature Collection Shower Gel. $5
Hawaiian Tropic Silk Hydration Lotion Sunscreen. $7.99
Always Radiant Infinity Pads. $6.99 (Already use them and love them!)
Always Tampax Radiant Collection sampler (tampons,pads,liners in a cute wristlet)
Sooo roughly $32.46 worth of products.
I'll update this post when I try EVERYTHING out. 🙂 BTW Disclosure: The product(s) featured in this post were provided for editorial consideration. Receipt of this product did not guarantee review and all opinions are my own.
~D