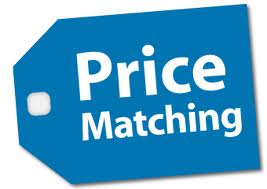 When I take breaks from couponing, I'm not taking a break from trying to save money. As I mentioned in an earlier post Price Matching is a great way to save money. Learning to Price Matching is easy and I think you'll be surprised at just how much you can save! I know I was.
Walmart and Target both offer Price Matching Policies that will match local competitor ads. If in doubt call ahead or visit the courtesy counter to find out their current policy before you fill up your cart.
I have a Super Target, but it's not SUPER as in, they don't carry meat and produce. 🙁 If they did, I'd probably do ALL my shopping there. So I settle for Wal-Mart. Most Walmart locations will match Produce and Meat sales from nearby stores. They also match advertised prices including "Store Loyalty Card Prices" and In Ad Coupons with a specific Product and Price on them.
Here are a few Price Matching tips:
Read their Policies! ~ Walmart and Target both have Price Match Policies, but each are a little different in what stores they will match and the rules and guidelines, so make sure you read these carefully and print them out to keep with you in case you run into a problem.

Check the Product Details. ~ To price match an item it must be the same product and same quantity so be careful to double check!

Price Match when Items are Out of Stock. ~ If you have a local store that's out of a hot deal you can Price Match these deals and get the same great price at Walmart or Target and you don't have to worry about picking up a rain check.

Keep Price Match Items Together. ~ Grab a hand held basket to put inside your cart to keep things organized. Having all your Price Match items at the beginning of your checkout helps speed up the process.

Don't forget your Coupons! ~ You should be able to Price Match & Use Manufacturer Coupons so don't forget that you can save twice as much with this strategy. Break or no break I still carry my binder with me. 🙂