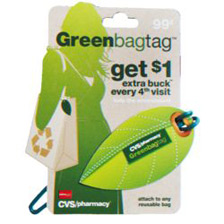 There is a promotion that I finally took part of last week at CVS. I bought a cute little "GreenBagTag" for 99cents. You can find them at any CVS Pharmacy or online. My cashier told me to keep it attached to my recyclable bag (It does not have to be a CVS bag) and every time I visit CVS have them scan it along with my ExtraCare card*. Every 4th visit will earn me $1 ECB!
I plan on keeping it looped to my purse. A lot of times I don't get a bag, though now that I'm learning the ropes at CVS and finding great buys, that may change. 🙂
~D
*Limit one scan per day.