Freebies are starting to roll in BIG TIME. Remember, If you follow me on Facebook I share them you can take advantage straight away! If not, by the time you read this, most are expired.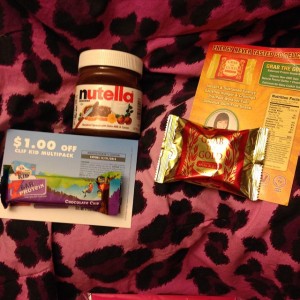 Thanks for the coupon for FREE Nutella, I'll get to try it for the first time EVER!

I wont a Cliff kids protein chocolate bar and a $1 coupon.
<– This is a Grab the Gold protein energy bar via FB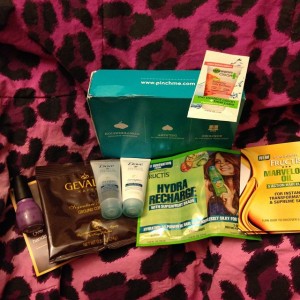 It's rare that I get Pinch Me. They always run out within minutes! I lucked out.
Sinful Colors Purple nail polish. (My fav color!!)
Gevalia Coffee and a coupon
Dove Oxygen Moisturizing shampoo/conditioner.
Garnier Hydra Recharge
Fructis oil
Garnier Balancing Daily exfoliator
JCrew Men's shampoo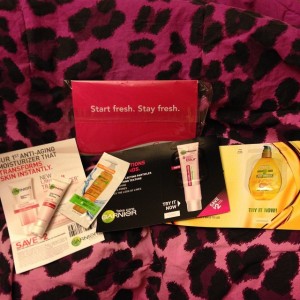 Sample box from Target with all kinds of goodies. OH they call came with coupons.
More Fructis oil
Garnier Nourishing clean oil
Care free samples
A TUBE of Ultra-Life Transformer. Not just foil packet! YaY!
Garnier 5 Second Blur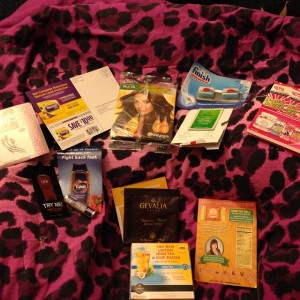 More Garnier
$10.00 coupon for Nexuim
Full tube of Tums from Costco
More Gevalia
Lipton 4pk K cup sample
Finish dishwasher tabs
Weleda from Target
Free temp tattoos from Shark ?? It was a promo. Sign up and get a mystery gift.

Vital4U Liquid Energy packets.
SO yeah. August was a great month! What did you get?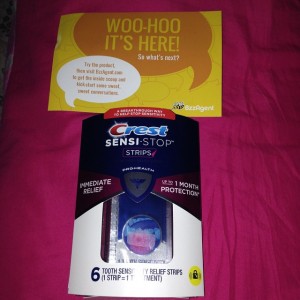 Hello! BuzzAgent Denise is back with another campaign.
This one is for Crest® Sensi-Stop Strips
Improve your life in only ten minutes
It may sound crazy now, but when you think about the wide world of deliciousness that opens up when you don't have to avoid cold, hot, acidic or sweet foods, it starts to make sense. With one Crest® Sensi-Stop Strip and just ten minutes, you get to experience an entirely new way of living:
One strip, ten minutes, up to one month of protection*
Immediate, targeted sensitivity relief like never before
Convenience to use anywhere
#GotItFree Thanks to BuzzAgent.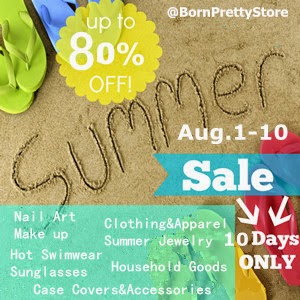 I have a new favorite store Born Pretty! I just placed an order for jewelry, cosmetics and accessories.
BornPrettyStore.com is a global online retail website that delivers products directly to consumers around the world. BornPrettyStore offer consumers for a wide selection of nail art products at attractive prices through www.bornprettystore.com.

BornPrettyStore's products in the core categories of Nail Art, Makeup, Jewelry and Watches.
Right now they are having an End of Summer Sale with prices reduced up to 80%. PLUS I have a coupon code which gives an additional 10% off. Use Code DXYT10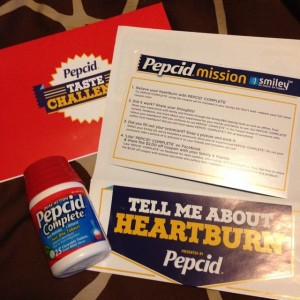 Two missions in one week! YaY!
I got:
One (1) full value coupon towards a 25 count bottle of PEPCID® COMPLETE® (Which I bought right away.)
Branded Scorecard
Branded Pen
A $2.00 coupon
One (1) Smiley360 Sharing Guide
To learn more click HERE
I got this for free from Smiley360 for review purposes. ~D
Now that Ive moved the freebies are starting to roll in BIG TIME. Remember, If you follow me on Facebook I share them you can take advantage straight away! If not, by the time you read this, most are expired.
OK I lied, this month was much slower. I feel I'm not getting my mail. I've applied for so many thing and not really anything has shown up. Here is what has.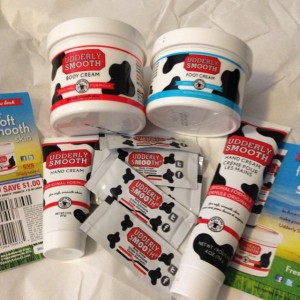 I won all of this on Facebook! I freaked out. I got the notification two days ago and it showed up TODAY. Coupons too!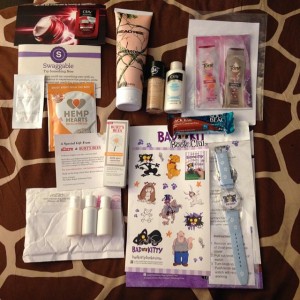 Olay ~ Moisturizer from Target
Swaggable ! Hemp Hearts and Immune Perfect Frownies lotion
Burts Bees ~ Dark Spot Corrector JUST FOR BEING AN ALLURE BEAUTY ENTHUSIAST. You take surveys once in a blue moon and WOW I got a treat in the mail.
3 samples to test out from Vitabath. I joined their Vitabath Insider. I can't find the link now but I'll post it on Facebook when I do.
Real Tree lotion. Now this blew me away. I thought I was getting a little sample. They sent a HUGE full size bottle. I got the perfume sample from Birchbox and fell in love. When I saw this I jumped on it.
Revlon Colorstay Foundation. Another prize from Splashscore on Facebook. It's a really neat program. You get points just for liking stuff and commenting on Facebook posts.Check it out!
Olay Body Wash from P&G.
Tone Body Wash from All You
Bat Kitty Book Club membership. I got stickers, a poster and a watch.
SouthBeach Bar from Pinch me.  I have signed up and I'm missing packages from them.

So that was my July. I know I whined, but it wasn't too bad after all.

~D
There are a  few affiliate links in this post.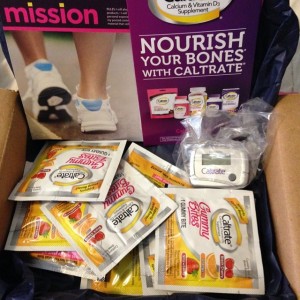 Mission time again! This time it's for Caltrate® Gummy Bites.
I got:
Ten (10) samples of Caltrate® Gummy Bites – Try it & share your extra samples with your family & friends!
One (1) Caltrate® Gummy Bites Branded Brochure
One (1) Branded Pedometer
One (1) $2.00 off coupon
Link to a $1.00 & a $2.00 off digital coupon [depends on size]
One (1) Smiley360 Caltrate® Gummy Bites Sharing Guide\
To learn more about this mission click HERE
Don't forget to sign up and get your own great missions. I get a lot of great things and learn a lot about new products I wouldn't normally purchase.
THANK YOU SMILEY360 FOR THIS FREE KIT OF CALTRATE GUMMIES.
I got these for review purposes, but all opinions are mine. ~D
Now that Ive moved the freebies are starting to roll in BIT TIME. Remember, If you follow me on Facebook I share them you can take advantage straight away! If not, by the time you read this, most are expired.
Kotex U liners and pads. I have no idea how I got two, oh well.

STILL AVAILABLE
Honest Kitchen cat food sample. Check back often for more offers.
Pinch Me ~ heliocare NO longer available
Sciff Move-Free-Ultra-Omega ~ No longer available
Rimmel freebie on Facebook. Check back often.
Probelle ~ nail hardener X bottles. No longer available
Garnier marvelous oil. No longer available
Listerine Generous size bottle and $3 coupon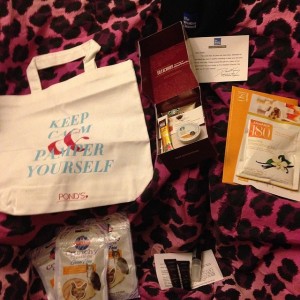 Tote bag from Ponds
Starbucks package with Via, K-Cup, and a bag of ground coffee. YUM
Free hat from the Weather Channel.
Shakelee shake from Pinch Me
3 packs of Science diet cat food
Aveda Invati hair care system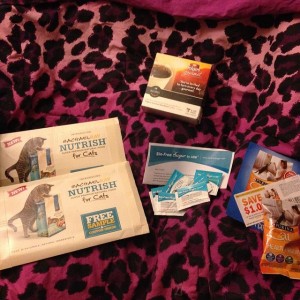 Rachel Ray Nutrise cat food samples X 2
Sin Free Sugar
Folgers Kcup sample
Purina weight loss cat food.
June was an amazing month for samples! What did you get?
Seriously, if you don't enter, you don't win! Set up a time nightly or even weekly to take 15-30 minutes to enter! The contests that allow daily entries, I bookmark them! If you follow me on Facebook https://www.facebook.com/denise.rivera I post all contests I enter.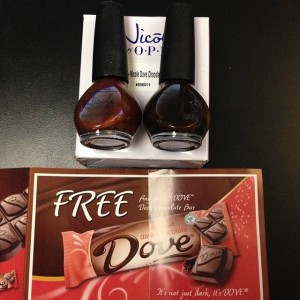 Nicole by OPI special edition chocolate nail polish Better After Dark & Promises in the Dark.
and a FREE Dove candy bar.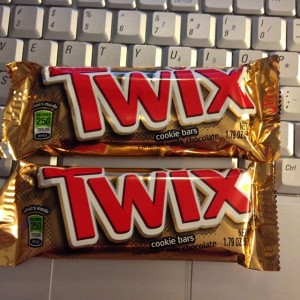 Free Mars candy. I chose Twix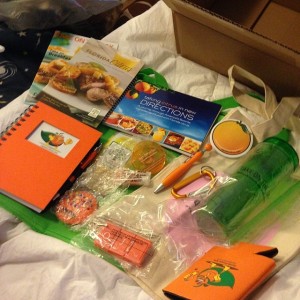 I had a co-worker snap a picture of me drinking orange juice and got all of this loot YESTERDAY
Two chap sticks, notepads, recipe books. a tumbler, a calculator a pen and a lot of other stuff.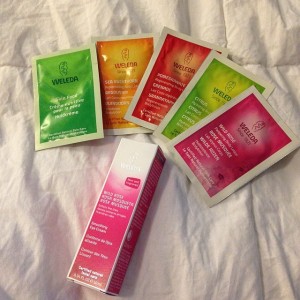 Weleda held a contest on FB. I WON! I highly suggest liking your favorite products on FB and Twitter. They are always holding contests, offering samples and/or coupons.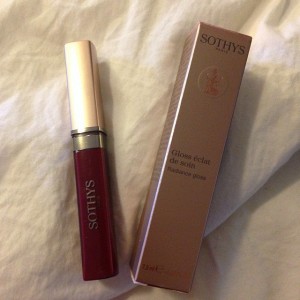 Sothy's a Canadian cosmetics company held a FB contest. I just had to answer what my favorite body part was. I said my eyes. LOL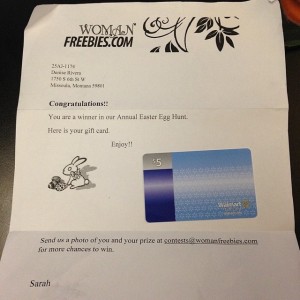 Finally… Women Freebies.com ALWAYS has contests on a daily basis. I won a $5 Wal-Mart Gift Card. Nothing to sneeze at. FREE $$$
So get to entering those contests!!!!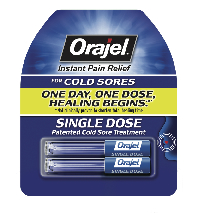 On another Smiley360 Mission!
This one is for Orajel™ Single Dose Cold Sore Treatment.  I am lucky that I rarely, if ever, get cold sores. For that reason I almost passed on this mission. I decided to get it after all just in case.

I'm glad I did! I recently got a nasty sore on my lower lip.
To learn more about the mission visit HERE
Thank you Smiley360 for my Free Orajel to try in exchange for a review.
instaGC is a GREAT way to earn money from the comfort of your home. After signing up, click the confirmation that is emailed to you. It's 100% FREE and LEGIT! Complete task, Watch videos, and more to earn reward points. The best thing about instaGC is you get paid INSTANTLY!! For example, cash out for 100 points = (minimum) $1 Amazon Gift Card and as soon as you hit redeem, your amazon gift card loads on the screen. All you have to do is head over to Amazon, add it to your account and go shopping! They have hundreds of Gift Cards available if Amazon isn't your cup of tea, including American Express Gift Cards and even Checks that are processed within 24 hours and mailed out from Louisville (KY) so you typically will receive it within 6-11 days. When you go to cash out for the first time, you will have to do a text or call verification code, but you won't receive any further messages on the phone after that
Get extra cash when you need it most
Whether you need extra money for Christmas, a bill that's overdue, or you just want free stuff, we are here to help you achieve your goals.
One of the ways that we are ahead of our competitors is that our gift cards are instant. You no longer have to wait to receive your rewards in the mail.
Although you won't get rich over night with us, we are a great way to make extra cash on the side.
To get free gift cards, you have to earn and redeem points. You can earn points by completing free offers, referring friends and family, and winning contests. Once you have enough points (for example 100 points), you can redeem them for an instant $1 gift card. Many other options exist in our instant gift card store.
[url=http://www.instagc.com/321880]instaGC.com[/url] was created in February 2011 and is the top rewards site that offers instant gift cards to its members. Over 100 different options are available (example of a few -> Amazon, eBay, League of Legends, Pizza Hut, Target, Walmart) that you can redeem your points for. Tons of easy offers available with new ones added daily. There are daily, weekly, and monthy offer and referral contests as well.