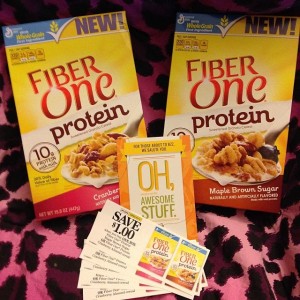 Hello! BuzzAgent Denise is FINALLY back with another campaign. I was beginning to think they forgot about me.
So this campaign involves two FREE ( cuz I'm an awesome agent) boxes of Fiber One Protein Cereal. I got two flavors:
Maple Brown Sugar

Cranberry Almond
These cereals are super  filling and are only around 220 per serving! I eat the Maple with milk, but devour the Cranberry Almond as a snack. I have a box in my locker at work. I shared with co-workers and now have to hide my box! They all rave about it. I was nice enough to share my coupons so they could get their own boxes.

Disclaimer: I received free samples through bzzagent.com in return for a sampling review and WOM advertising. The opinions expressed in this blog are solely my own and have not been influenced by bzzagent or any third party.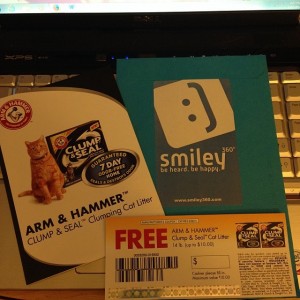 Mission:
NEW ARM & HAMMER (TM) CLUMP & SEAL (TM) Cat Litter
To read more about my mission and this AMAZING product click HERE
I got this product for free from Smiley360.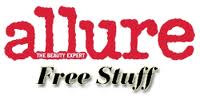 Starting 11/4/2013 allure magazine will be giving away free beauty products to the first 500 readers who signs up at 12-NOON EST (11am Central, 10am Mountain, 9am Pacific). Mark your calendar with the following dates now and be ready:
Nov. 4: Free NCLA Nail Lacquer in Prized Possessions
Nov. 5: Free Mary Kay At Play Just for Eyes Eye Shadow
Nov. 6: Free Yardley London Almond Buttercream and Vanilla & Sweet Orchid Bath Bars
Nov. 7: Free B'iota Botanicals Intensive Therapy Herbal Shampoo and Conditioner
Do not enter until 12pm EST, even if the entry form is available earlier. Note: You will not find out that you're a winner until you've received the item in the mail and delivery may take 2-4 months.
Here are September freebies.Many are still live so GO GO GO!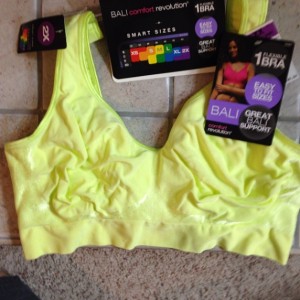 Bali Comfort Revolution bra FB givaway. Possibly doing this  monthly so like them on Facebook.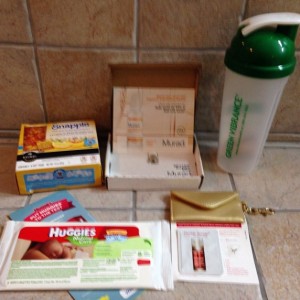 Snapple Keurig brew over ice sample form Target samples page. STILL LIVE
Murad Rapid Age Spot and Pigment Lightening Serum ~ FB
Green Vibrance shaker cup. FB contest
Huggies Natural Care 8 wipes from Wal-Mart
Clarins Double Serum and bonus card holder keychain. FB offer. No longer live.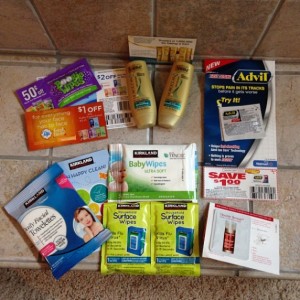 Puffs Fresh Faces and Boogie Wipes with coupons from Target.
Suave Moroccan Infusion Shampoo/Conditioner. FB giveaway.
Advil Fast Acting sample with coupon.
Oh Happy Clean pack for Costco members. Surface Wipes, Baby Wipes & Facial Towelettes samples.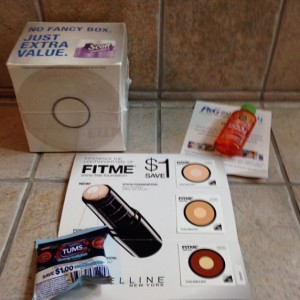 Scott Extra Soft tissue free roll.
Herbal Essences Body Wash in Body Burst. P&G sample. AND I just signed up for this one on Facebook. GO GO GO!
Tums  Chewy Delights from Target samples.
Maybelline FitMe Foundation from Wal-Mart.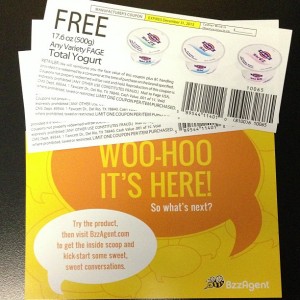 I'm on a new Campaign with BuzzAgent. This one is for Fage Greek Yogurt. They send me several coupons for FREE yogurt for me to try. So far I've loving it! My family does too. Next step is to try cooking with it.

THANK YOU BuzzAgent for my free coupons to try this tasty product!
This was taken from the BuzzAgent site…
The rich texture and full taste of FAGE Total makes it an incredibly versatile ingredient to have in your kitchen. Add fresh fruit for a perfect mid-day snack or a dash of honey for an indulgent dessert. FAGE Total is low in calories and fat, making it a perfect substitute for cream, mayonnaise and sour cream in many dishes.

Because it is rich in protein, FAGE Total is easy to enjoy at any time of day as a healthy part of your daily diet. Visit usa.fage.eu/recipes for a variety of exciting ways to incorporate FAGE Total into your diet.
I apologize for being SUPER late with this post. Ever since I got back from vacation in July I'm just not myself. This blog is totally suffering. All my blogs are suffering. I'm trying to get back on the horse so please bare with me.

Here is August's Freebies
Toothbrush from a new company called Hello
Schick Hydro razor from a Wal-Mart promotion Still available SO HURRY
Smashbox primer giveaway promo. I won!

Viva La Juicy Noir perfume. You can still get it
Katy Perry's Killer Queen perfume. You can still get it.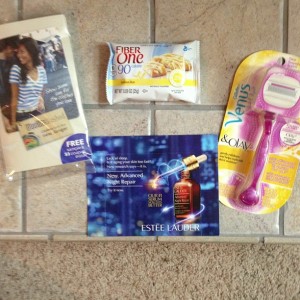 Whoolite sample. Forgot where I got it.
Fiber One Lemon Bar from BoxTopsForEducation I highly recommend signing up for this. They have great monthly samples for members only.
Venus Razor FB Promo
Estee Lauder ???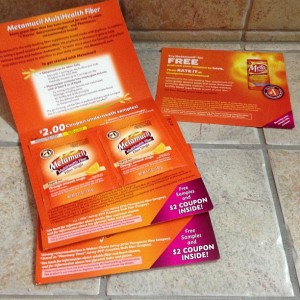 Metamucil with coupons from Vocal Point
Another company that gives great freebies! Just today I signed up for Root Saver hair Dye.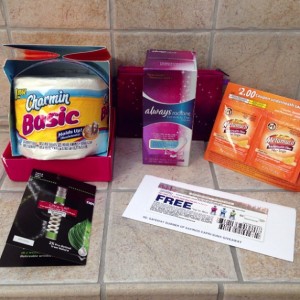 I usually share my snail mail freebies at least twice a month. I went on vacation this month and my head is just now starting to get back into work mode.

Charmin Basic roll of tissue + a $3 coupon and (2) $1 coupons~ from a Spanish website
FULL SIZE box of Always liners. beinggirl.com
Metamucil (2) packets + $2 coupon
Garnier Ultra-Lift + $2 coupon ~ Target.com
Coupon for FREE Capri Sun Big Pouch ~ Safeway/FB Promo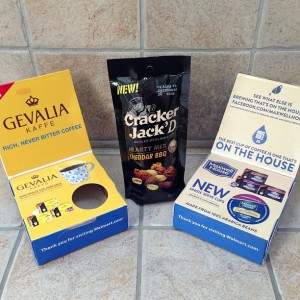 Gevalia K-Cup sample (stolen) ~ Wal-Mart
Cracker Jack'D ~ FB Promo
Maxwell House K-Cup ~ Wal-Mart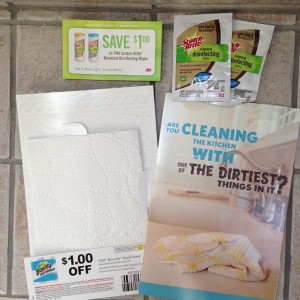 (2) packets of Scotch Brite Botanical Disinfecting Wipes + $1 coupon ~ FB
(2) Bounty DuraTowel Samples + $1 coupons ~ Vocal Point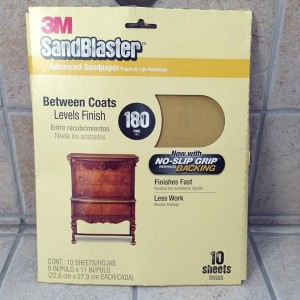 3M SandBlaster sanding sheets 10-pk ~ ???
Not a bad month! Let's see what August brings!
~D

Regional coupon inserts & value differences are to be expected!
(/X) after coupon = expiration date
() before coupon = multiple of same coupon
ETS = excludes trial sizes
DND5 = coupon states Do Not Double, but barcode starts w/a 5
ACE $1/1 sports tape, underwrap, elastic, or self-adhering bandages (12/31)
Activia $1/1 4pk or 4 5.3oz cups (9/29)
ban $.40/1 product 1.5oz+ (9/15)
ban $.75/1 solid (9/15)
Barilla $1/1 Italian Entree (10/26)
Barilla $1/1 Italian Entree (9/28)
Betty Crocker $.50/2 Fruit by the Foot, Fruit Gushers or Fruit Roll-Ups (9/28)
BIC $1/1 stationery product (9/15)
Big G $1/3 cereals (9/14)
Blink $2/1 Tears or GleTears (9/9)
Buitoni $1/1 refrigerated pasta or sauce (10/31)
Chex Mix $.50/2 4.5oz+ (9/28)
Claritin $10/1 70ct (8/11)
Claritin $4/1 30ct+ (9/1)
Clearasil $.75/1 On-the-Go Rapid Action wipes (9/15)
Clearasil $1/1 Daily Clear refreshing superfruit wash, scrubs or pads (9/15)
Clearasil $1/1 Ultra product (9/15)
Command $.75/1 product (9/18)
Complete $1/1 12oz+ (9/9)
Complete/Blink $1/1 Complete Blink-N-Clean lens drops or Blink contacts (9/9)
Easy-Off $.50/1 (9/15)
Energizer $1.50/1 batteries or flashlight (9/7)
Energizer $2/1 EZ Turn & Lock hearing aid batteries 8pk+ (10/12)
Energizer $3/1 Ultimate Lithium, Advanced Lithium, Recharge Power Plus or Recharge Universal batteries AA/AAA 4pk+ (9/7)
Farmer John $1/1 Hot Louisiana brand chicken sausage (10/4)
Fiber One $.50/1 chewy bars, 90 calorie products or protein chewy bars (9/28)
Five Star $1/2 products (9/30)
Five Star $2/1 binder (9/30)
Five Star $2/2 reinforced filler paper (9/30)
Green Giant $.50/1 Veggie Snack chips 5oz+ (9/28)
Green Giant $.60/3 Seasoned Steamers or Valley Fresh Steamers frozen vegetables 11 or 12oz only (10/26)
Hamburger Helper $1/5 (9/28) (2 coupons)
L'il Critters $1/1 gummy vitamins bottle (10/31)
Lime-A-Way $.50/1 (9/15)
Lysol $.50/1 disinfectant spray 12oz+ (9/3)
Lysol $.50/2 toilet bowl cleaners (9/3)
Lysol $.50/2 wipes 35ct+ (9/3)
Lysol $2/1 No-Touch hand soap system starter kit (9/3)
MiraLAX $1/1 10ct or 14 dose+ (9/1)
MiraLAX $3/1 30 dose (9/1)
Mop & Glo $.50/1 (9/15)
Nature Valley $.50/1 granola bars 5ct+, granola thins or soft-baked oatmeal squares (9/28)
Nestle $1/2 Crunch Girl Scout fun size bars boxes 7.8oz (9/15)
Nestle B3G1 free Crunch or Crunch Girl Scout candy bars 1.3-1.55oz up to $1.09 (9/15)
Old El Paso $.60/3 products excluding refrigerated, frozen or soup products (9/29)
Old English $.75/1 (9/15)
Pam $1/2 cooking spray cans or 1 twin pack (9/15)
Perform $2/1 pain relieving singles, gel, roll-on, spray or foot pain therapy kit (11/30)
Philips Sonicare $5/1 PowerUp 3pk brush head (9/15)
Philips Sonicare $5/1 PowerUp battery toothbrush (9/15)
Pillsbury $.50/2 Toaster Strudel, Toaster Scrambles pastries or pancakes (10/26)
POM $.50/1 Hula, Mango or Coconut (9/14)
Purina Beneful $1.50/1 Healthy Smile dry adult dog food (9/4)
Purina Beneful $1/1 Healthy Smile dental dog snack (9/4)
Purina Beneful Buy 1 3.3lb+ Healthy Smile adult dog food, get 1 Healthy Smile dental dog snack free up to $4 (9/4)
Purina Fancy Feast $1/24 3oz cans or 1 24ct variety pack (11/4)
Purina Fancy Feast $1/6 Delights with Cheddar 3oz cans (11/4)
ReviaLens $2/1 OcuTec 10oz (9/9)
ReviaLens $4/1 OcuTec 20oz (9/9)
Revlon $1/2 hair color products (9/8)
Rips $.50/1 bag 4oz+ (10/31)
Schick $1/1 Xtreme3, ST2, ST3, Slim Twin or Quattro disposable razor packs excludes 2ct and 10+2ct (9/8)
Schick $3/2 Xtreme3, ST2, ST3, Slim Twin or Quattro disposable razor packs excludes 2ct and 10+2ct (9/8)
Snapware $2/1 food or home storage (10/31)
Totino's $.60/3 Crisp Crust Party Pizza products excluding Party Pizza Pack and Big Party Pizza (10/26)
Tyson $1/1 Any'tizers (11/3) (2 coupons)
vitafusion $1/1 gummy vitamins bottle (10/31)
Yoplait $.75/2 Go-Gurt, Kids Cup, Trix multipack, Pro-Force multipack or Baby (9/28) (2 coupons)
Yoplait $1/4 yogurt multipacks (9/28)
Zest $.50/1 3bar+ (9/22)
Zest $1/1 body wash (9/22)