Regional coupon inserts & value differences are to be expected!
(x) before coupon = multiple of same coupon
ETS = excludes trial sizes
Advil $1/1 20ct+ (7/18)
Advil Children's $1/1 product (7/18)
Advil PM $1/1 16ct+ (7/18)
Banana Boat $1/1 sun care product 3oz+ excludes lip balm (6/29)
Banana Boat $3/2 sun care products 3oz+ excludes lip balm (6/29)
Ben & Jerry's $1/1 pint frozen yogurt or ice creams (6/16)
Best Foods $1/1 product 22oz+ (6/16)
Caress $.75/1 body wash 12oz+ or 6 bar pk+ (6/16)
Clear Buy 1 Men Scalp Therapy, get 1 Scalp & Hair Beauty Therapy free (6/2) ETS
Clear Buy 1 Scalp & Hair Beauty Therapy shampoo, get 1 conditioner or mask free up to $5.99 (6/2) ETS
DermaSilk $5/1 full size product (6/1)
Dove $.50/1 beauty bar 6 bar pk+ excludes trial and M+C (6/16) ETS
Dove $.75/1 body wash 12oz+ excludes trial and M+C (6/16) ETS
Dove $1.50/2 go sleeveless, go fresh, ClearTone or any Clinical Protection excludes trial and M+C (6/16) ETS
Dove $1/1 hair care product excludes trial and M+C (6/2) ETS
Febreze $1.50/1 Air Effects (6/30) ETS
Folgers $.25/1 coffee product (6/23)
Hand Perfection $5/1 anti-aging hand care (6/30)
Hawaiian Tropic $1/1 sun care product 4oz+ excludes lip balm (6/29)
Hawaiian Tropic $3/2 sun care products 4oz+ excludes lip balm (6/29)
Hot Shot $1/1 product (8/31)
I Can't Believe It's Not Butter/Country Crock $.30/1 product excludes Country Crock pumpkin spice, cinnamon and honey flavored spreads (6/16)
Jack's $.75/1 pizza 15-30.5oz (6/30)
Land O'Frost $.55/1 Bistro Favorites, Premium, DeliShaved or Canadian Bacon (6/19)
Land O'Frost $1/1 sub sandwich kit or wrap kit (6/19)
Lever 2000 $.50/1 2 bar pk+ (6/16) ETS
Lever 2000 $1.50/1 body wash (6/16) ETS
Lipton $.40/1 tea bags, tea & honey to-go or pitcher size or any iced tea mix (6/16) ETS
L'Oreal $1/1 Paris skincare product (7/13)
L'Oreal $2/1 Excellence shade or Excellence Richesse (7/13)
L'Oreal $2/1 Paris cosmetic face product excludes Magic Perfecting Base .17floz mini size (7/13)
L'Oreal $2/1 Youth Code product (7/13) ETS
Nalley $.75/1 pickles 16oz+ (6/23)
Nature's Bounty $1/1 vitamin or supplement (6/18)
Nature's Bounty $2/1 fish oil or Co Q-10 (6/18)
Nature's Bounty $2/1 Optimal Solutions supplement (6/18)
Nature's Bounty $3/1 Optimal Solutions protein & vitamin shake mix (6/18)
NeilMed $2/1 Sinus Rinse refill packets or SinuFLO Ready Rinse (6/10)
Pringles $.50/1 snack stacks ets or Stix 70ct or 8pk (6/30)
Pringles $1/4 full size cans 160g+ (6/30)
Purina $5/2 items; 40oz+ dog treats, 11lb+ dry dog food, 13lb+ dry cat food or 35lb+ cat litter (6/30) TARGET COUPON
Q-tips $.25/1 cotton swabs product 170ct+ (6/16) ETS
Sarna $2/1 anti-itch lotion (7/31)
Slim-Fast $1/1 bar or snack bites (6/16)
Slim-Fast $1/1 shake multi-pack or shake mix (6/16)
Snuggle $.50/1 fabric softener liquid or dryer sheets (6/30)
Suave $.50/1 deodorant product excludes men's and trial (6/16) ETS
Suave Buy 2 Naturals body wash products, get 1 body lotion free up to $3 (6/2) ETS
Suave Professionals $.50/2 Men products (6/2) ETS
Suave Professionals $.50/2 Moroccan Infusion shampoos or conditioners (6/2) ETS
Suave Professionals $1/1 Moroccan Infusion styling oil (6/2) ETS
Sunlight $1/1 dish detergent (6/30)
ThermaCare $1/1 cold wrap 1ct or heat wrap 2ct+ (8/25)
ThermaCare $3/1 cold wrap 1ct (5/26)
Venus $5/1 razor and 1 refill excludes disposables and trial (6/30)
Welch's $.75/1 100% juice bottle or multi-pack (8/31)
Wet n Wild/Fergie $1/1 eye, lip & nail product (6/1)
Wish-Bone/Western $.50/1 dressing product (6/16)
Wisk $1/1 laundry detergent 45oz or 24 loads+ (6/30)
Wonderful $.50/1 pistachios 5oz+ (7/19)
Xenadrine $5/1 product (8/31)
Zyrtec $10/1 70ct+ (6/26)
Zyrtec $4/1 regular or D 24ct+ (7/31)
Zyrtec $7/1 regular or D 24ct+ (5/26)

Regional coupon inserts & value differences are to be expected!
(/X) after coupon = expiration date
() before coupon = multiple of same coupon
ETS = excludes trial sizes
DND5 = coupon states Do Not Double, but barcode starts w/a 5
Insert #1
Activia $1/1 4pk (7/13/13)
Alouette $.55/1 crumbled cheese (7/31) DND
Alouette $1/1 cheese portions (7/31) DND
Alouette $1/1 spreadable cheese (7/21) DND
Bisquick $.50/1 40oz+ Original or Heart Smart baking mix (7/13)
Chavrie $1/1 goat cheese (7/31) DND
Chock full o'Nuts $1/1 package (6/30)
Colgate $1/1 mouthwash 8oz+ (6/16)
Coppertone/Coca-Cola $3 off 1 Coppertone 4oz+ product and 2 Coca-Cola 12pks or 1 Coca Cola 20/24pk (6/30)
Crystal Light $1/1 liquid drink mix (6/23)
Dole $.75/2 canned mandarins (7/31)
Dr. Scholl's $3/1 Active Series insoles (7/13)
Dr. Scholl's $3/1 For Her insoles (7/13)
Dr. Scholl's $3/1 Freeze Away wart products (7/13)
Dr. Scholl's $3/1 Massaging Gel insoles or pain relief orthotic inserts (7/13)
Dromedary $.35/1 Pimiento product (9/2)
Edge $.55/1 shave gel or cream 7oz+ (6/30)
Energizer $.50/1 batteries, flashlight or USB wall or car charger (6/29)
Foster Farms $1/1 oven ready chicken breasts (8/28) DND
Foster Farms $1/1 panko crusted chicken breasts (8/28) DND
Goodnites $2/1 bed mats jumbo pk+ (6/15)
Hidden Valley $1/1 Farmhouse Originals dressing (8/19)
Hormel $.50/1 Natural Choice deli sandwich meat or chicken strips (7/15)
Hormel $.55/2 chili (7/15)
Hormel $1/1 Always Tender (7/15)
Hormel $1/2 pepperoni (7/15)
Hormel $1/2 premium chicken breast (7/15)
Huggies $1.50/1 diapers (6/15)
Huggies $2/1 Little Movers Slip-On diapers (6/15)
Irish Spring $.50/1 multi-bar pack 6pk+ (6/8)
Irish Spring $1/1 body wash excludes 2.5oz (6/8)
Johnsonville $2/1 Grillers (6/30)
Kleenex $.50/1 hand towels (6/29)
La Victoria $1/1 tortillas (7/28)
La Victoria $1/2 products 12oz+ (7/28)
L'Oreal $1/1 Advanced Haircare shampoo or conditioner (7/13)
L'Oreal $2/1 Advanced Haircare treatment (7/13)
Lunchables $1/1 Uploaded lunch combinations (7/14)
Nabisco $.75/2 cookie or cracker products 6.5oz+ (7/14) DND
Nescafe $.55/1 Taster's Choice single serve stick pack carton (7/14)
Nescafe $1/1 Taster's Choice coffee canister 7oz+ (7/14)
OxiClean $.50/1 pre-treater (7/31)
OxiClean $.50/1 versatile stain remover or power paks (7/31)
OxiClean $.75/1 dishwashing booster (7/31)
OxiClean $1.50/1 in-wash liquid (7/31)
Palmolive $.50/1 dish liquid 14oz+ (6/8)
Pillsbury $1/2 refrigerated baked goods products (7/13)
Planters $1/1 NUT-rition sustaining energy mix multi-pack (7/31) DND
Playtex $4/1 Fresh+Sexy wipes (6/30) (2 coupons)
Refresh $3/2 products (7/31)
Refresh $4/1 Optive Advanced product (6/30)
Sargento $.50/2 natural slices (6/30)
Schick $2/1 Quattro disposables pack (6/30)
Schick $2/1 Quattro titanium razor or trimmer (6/30)
Schick $2/1 Quattro titanium refill (6/30)
Schick $3/1 3 or 4ct Quattro for Women disposable razors (7/14) TARGET COUPON
Schick $3/1 8ct Xtreme3 disposable razors (7/14) TARGET COUPON
Scotch-Brite $.75/2 scouring products (7/31)
Scotch-Brite $.75/2 scrub sponge or dishwands (6/30)
Scotch-Brite $1/2 bathroom solutions cleaning tools (6/30)
Scotch-Brite $1/2 botanical disinfecting wipes (6/30)
Scotch-Brite $1/2 dishwands or dishwand refills (6/30)
Seagram's $.55/1 ginger ale 12pk 12oz cans or 8pk 7.5oz cans (8/24)
Silk $.60/1 iced latte (6/20)
Simple Buy 1 cleanser or moisturizer, get one cleansing wipes free up to $6.99 (6/2) ETS
Skintimate $.55/1 shave gel or shave creme excludes 2.75oz cans (6/30)
Stride/Dentyne/Trident/ID $1/3 single packs (7/14) DND
Sweet Baby Ray's $1/2 barbecue sauce (6/30)
Swiss Premium $.50/1 tea or lemonade gallon (6/30)
Insert #2
Apple & Eve $.55/1 Sesame Street juice beverage (6/29)
Barilla $.55/2 blue box pasta (7/13)
EasyLiner $2/2+ rolls (6/30)
Gillette $1/1 body wash or anti-perspirant/deodorant (6/30) ETS
Heinz $.25/1 ketchup (6/16)
Heinz $.30/1 homestyle beans (6/16)
Heinz $1/1 57 Sauce 10oz+ (7/28)
Infusium 23 $2/1 shampoo, conditioner or leave in treatment 6oz+ excludes 1.7oz and trial (6/19)
Lamisil $2/1 product (9/30)
Lea & Perrins $1/1 10oz+ (7/28)
Lea & Perrins $1/1 marinade in-a-bag product (7/28)
Maruchan $.50/1 bowl or Yakisoba (7/15)
Morton $.55 off 1 26oz plain or iodized salt and 1 salt & pepper shakers (7/14)
Morton $.55/1 kosher salt or coarse or fine sea salt excludes 4.4oz fine sea salt (7/14)
Old Spice $3/2 deodorant twin packs (6/30) ETS
Ore-Ida $1/1 Grillers (6/16)
Pert Plus $1/1 2-in-1 product 13.5oz+ excludes 1.7oz and trial (6/19)
Post $.75/1 Sesame Street cereal (6/29)
Reynolds Wrap $.75/1 foil 35sqft+ excludes Wrappers (7/31)
Rubbermaid/Kool-Aid/Country Time/Crystal Light $1.50 off 1 Rubbermaid beverage container and 1 Kool-Aid, Country Time or Crystal Light drink mix product excluding envelopes (6/29)
Secret $3/1 Clinical excludes .5oz and trial (6/30)
Secret $3/1 Outlast or Scent Expressions twin pack excludes .5oz and trial (6/30)
Snyder's $1/1 flavored pieces or pretzel sandwiches 8oz+ (7/31)
Star $1/1 olive oil 16oz+ (8/31)
Sunsweet $.75/1 dried fruit (8/30) DND
Jolly Time $.50/1 microwave popcorn (6/30)
Tyson $1/1 Any-tizers snacks (8/19)
Ultimate Flora $3/1 probiotic (9/30)
Vlasic $.75/1 regular or Farmer's Garden pickle variety (7/31)
Wonderful $.50/1 Almonds 6.3oz+ (7/19)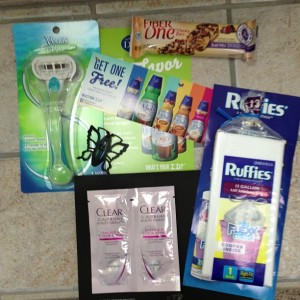 I got some awesome freebies over the last few weeks! Take a look.
Venus razor (FB contest)
Coupon for FREE International Delight creamer.
Fiber one bar (Pillsbury)
Butterfly hair clip (I forgot how/where I got this.)
Ruffies trash bag sample + $1 coupon
Clean and Clear Shampoo/Conditioner. This is ALWAYS on Facebook so check it out.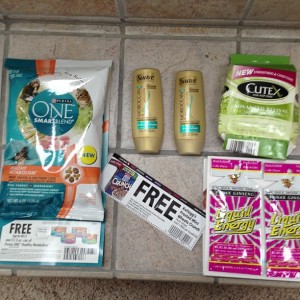 6oz bag of Purina One Smart Blend Cat food +  coupon for FREE can of wet food
Coupon for FREE Kellogg's Frosted Mini Wheat Cereal
Suave Moroccan Shampoo/Conditioner (FB)
Cutex FULL SIZE box. Allure magazine contest
Vital4U energy drink 2 pack.
What have you received lately?

Target has just released a new savings program called Target Cartwheel. You do have to have a Facebook profile in order to join this new program. This will allow you to save even more because you can use one manufacturer coupon, one Target coupon and one Cartwheel offer per item purchased at your Target store.
1.First, sign up for Target Cartwheel and log in via Facebook (just click on the Facebook login icon in the top right corner)
You can find the offers you want in your Cartwheel activity feed, on a friend's Cartwheel, or if you're looking for something specific just search or browse the categories. Every offer card you see, you just click or tap to flip and then select the add button.
This is what it looks like when an offer is on your Cartwheel, a red check appears in the corner of the card.
When checking out, present your mobile or print barcode to the cashier just as you would any other coupon. After the cashier scans the barcode you'll automatically receive your savings on all of the Cartwheel offers on your list.
You get 10 spots to save offers automatically just for joining Cartwheel. From there, you can earn additional spots by unlocking Cartwheel badges. Check out "my badges" to see which badges you've already unlocked, and read hints to help you unlock more. You can remove or add deals anywhere across Cartwheel – if a deal is already on your Cartwheel, just flip the card and select "remove."
Cartwheel offers are only valid in U.S. Target stores. Cartwheel is not available for redemption on Target.com or Target Canada at this time.
There is a limit one manufacturer coupon, one Target coupon and one Cartwheel offer per item. Cartwheel offers are good on up to 4 qualifying items per transaction unless otherwise noted. Limit of 6 Cartwheel transactions per day. Item(s) may not be available at all stores. Offer value may not exceed value of item purchased.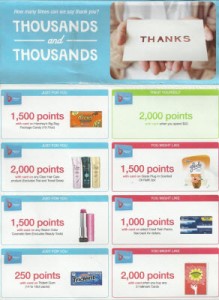 There's a new Thousands and Thousands Thanks Mailer arriving in mailboxes from Walgreens, so be on the lookout for this one. Hopefully, you'll get this mailer too! Here is what you can find inside:
1,500 points on Hershey's Big Bag Pk (19.75 oz)*
2,000 points on any Clear Hair Care product (Excludes Trial and Travel Sizes)*
1,500 points on any Revlon Color Cosmetic Item (Excludes Beauty Tools)*
250 points on Trident Gum (14 – 18 ct. pk)*
1,500 points on Glade Plug-in Scented Oil Refill 2 pk*
1,000 points on select Crest Twin Packs*
2,000 points when you buy any 3 Hallmark Cards*
2,000 points when you spend $20**
*Offer expires 6/30/13. Limit one coupon per customer per offer. Limit one item per coupon. Offer valid only at participating Walgreens and Duane Reade stores. Offer valid only when used with your Balance Reward card.
**Offer expires 6/30/13. Balance Rewards Coupons must be presented at time of purchase. If coupon amount is more than the total purchase amount, coupon will not be accepted. Purchase amount needs to be more than the balance when it is calculated before taxes and after all other Walgreens or Duane Reade coupons and discounts are applied. Offer valid only when used with your Balance Reward card.

Sunday Coupon Preview
Regional coupon inserts & value differences are to be expected!
(x) before coupon = multiple of same coupon
ETS = excludes trial sizes
P&G Insert Coupons (Expire 6/30/13) Most Coupons will be ETS.
Bounty $.25/1 towels or napkins
Cascade $.50/1 ActionPacs
Charmin $.25/1 product
Clairol/Herbal Essences $2/1 color product
Covergirl $1/1 product excludes accessories
Covergirl $2/1 Outlast lipcolor, Outlast smoothwear or Outlast double lipshine
Covergirl $3/2 products excludes accessories
Duracell $.50/1 CopperTop, Ultra Power, Ultra Photo Lithium or specialty batteries
Duracell $1/1 rechargeable batteries, charge or 6pk+ hearing aid batteries
Febreze $.75/1 car vent clip
Febreze $.75/1 Set & Refresh or Stick & Refresh
Febreze with Gain $1/1 product
Gain $.25/1 dishwashing liquid
Gain/Era $.1/2 Gain detergent or fabric enhancer or Era detergent 25oz+
Gain/Era $.40/1 Gain detergent or fabric enhancer or Era detergent 25oz+
Gillette $2/1 disposable
Gillette $2/1 Fusion shave prep ProSeries skin care
Gillette $3/1 Fusion ProGlide razor or styler
Gillette Buy Mach3 cartridge, get $5 off razor
Head & Shoulders $1/2 products excludes 1.7oz
Herbal Essences/Aussie $1/2 products
Honeywell with Febreze freshness $5/1 Cool & Refresh fan (6/23)
Iams $1/1 dog biscuit or treat
Iams $1/1 dry dog or cat food
Iams $1/3 canned dog or cat food
Mr. Clean with Gain $.50/1 liquid or spray
Olay $1.50/1 Fresh Effects facial moisturizer or facial cleanser
Olay $2/2 bars or body washes excludes Simply and 1 bar
Olay Buy Regenerist facial moisturizer, get $2 off bath bar, body wash or in shower body lotion
Pantene $1/2 products
Prilosec OTC $2/1 Wildberry
Puffs $.25/3 singles or 1 3pk+
Secret $1/1 Clinical or Scent Expression or Outlast twin pack excludes .5oz
Swiffer $75/1 refill or Dust & Shine
Venus $3/1 refillable razor
Vidal Sassoon $4 off 1 color and 1 shampoo, conditioner or styler
ZzzQuil $1/1 product