October was a great month. I won several prizes and now I'm taking part in getting items for FREE for review purposes. It's been a busy month. So busy, my Samplebox blog is behind.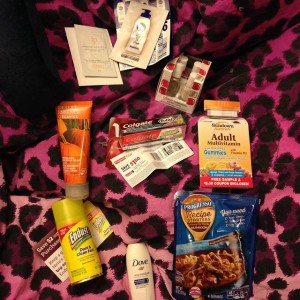 Nivea Lotion ~ Facebook
Essie mini 4PK the winter collection. I don't remember how/where I won this.
Desert Essence Pumpkin lotion ~ Won on FB promotion from company
Colgate toothpaste from VEO (find this on the iTunes store and download for freebies)
Sundown vitamins Adult gummies ~FB
Endust ~ FB
Dove body wash ~ Dove website promo.
Progresso Soups recipe kit ~ Betty Crocker monthly freebie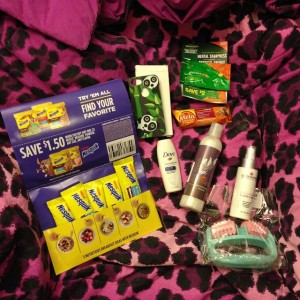 Nestle Quick 5 pk with coupon ~ FB
Panda hard shell case for iPhone 5 ~FB
More Dove Body Wash ~ VEO
Meta Bar from Metamucil FB promo
Energy tablet ~ FB
TeaTree Shampoo (review site)
Cellulite cream and messager (review site)
I can't disclose the review companies on here at this time, but start googling and you'll find them.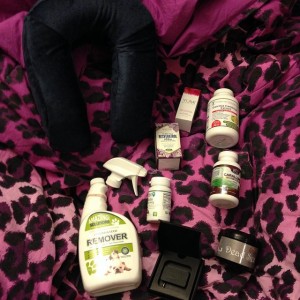 Neck pillow and various vitamins for review.
Dead Sea Mask for review
Pet stain/urine remover for review.
I'm not a big wine drinker, but I do a lot of socializing and prefer wine over liquor. I got a Remodia Wine Aerator Decanter to see if that will help. This is what it does.
There are 3 stages of the aeration system that makes your wine taste better almost instantly.
The umbrella-shaped aeration component gently expands your wine, exposing it to the maximum amount of air possible as it flows over, around, and under the wine. This allows the wine to mix with the air and changes the taste to a softer, more enjoyable and palatable experience. Your wine will not only taste better, the scent will be improved, too.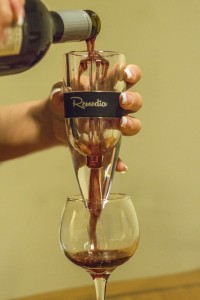 Why does wine have to breathe anyway? Well wine is "alive" in the sense that there are constant chemical reactions taking place, but wine doesn't breathe in the sense that you and I do. "Breathing" begins the moment a cork is pulled or a twist off is uncapped. But if that's all you do, the amount of surface area that the wine has that can be exposed to oxygen is only a small size. For more aeration, pouring a glass will help, as will swirling that glass around, but to maximize the "breathing" phenomenon, you'll want to use a decanter.
I honestly didn't taste the difference, had I drank it before it "breathed", but again, I'm not a wine connoisseur. This would make a fantastic gift for someone that is though.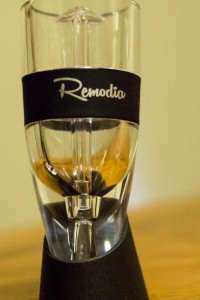 It's designed to prevent leakage better than other decanters because it prevents any leaking or dripping from pouring your wine too quickly.
Also to prevent a mess, just set the aerator in the rubber stand until ready to wash. The Remodia is easy to clean, store and is dishwasher safe.
To me this is the best wine aerator for red wine, but can be used for white wine as well.
this would make a fantastic gift for a wine enthusiast – comes with pouch and GIFT BOX.

I was given this product for review purposes. All opinions are my own. ~D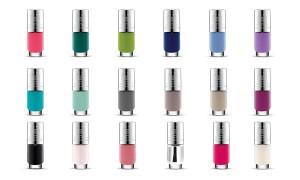 The Body Shop
now has a new nail polish line!
Expand your AOV and help us promote these new nail accessories along with our new Colour Crush line!
Nail Art Pen – This double-ended tool is like a magic wand for nail art. Finer side: Pinpoint accuracy for smaller dots and fine lines. Thicker side: Draw big dots and fill in large areas smoothly.
New Sweet Almond Oil Nail Polish Remover – 4-in-1 caring formula with sweet almond oil, soya oil and Community Fair Trade sugarcane essence. Acetone free, Conditioning formula, Softens nail cuticles and Non-drying formula.
Gentle Nail File – Give your nails a perfectly groomed look with our Gentle Nail Filer. This easy to clean, elegant looking acrylic file is a must-have accessory for keeping your nails looking perfect on the go.
New! Colour Crush™ Nail Polish + Buy 3 and Get Free Shipping!
Which Colour Crush color is right for you? Take the Nail Happiness Quiz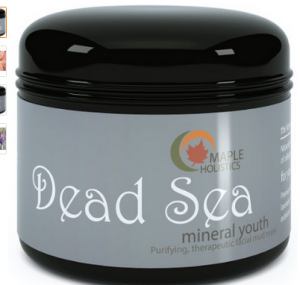 This is a review for Maple Holistics Dead Sea Mask. It can be used my Women, men and teens.
Enriched with Organic Mineral Youth Formula to Balance Oily Skin, Remove Acne, Wrinkles & Exfoliate – Anti Aging Facial Cleanser Heals Oily Skin, Psoriasis, Minimizes Pores, Cleansing & Detoxifying Scrub.
I got a 9oz tub.
I got this picture off Amazon because I lost the one I took on my camera.
The mask is creamy mud that contains Dead sea mud (from Israel), Almond essential oil, Organic Clary sage, Organic Lavender, Organic German chamomile, Biodynes EMPP and Pseudocollagen. I was worried at first (just scanned ingredients) that it would burn like most masks. I have sensitive skin and didn't want to end up with a red blotchy face.
I was impressed with how cooling it was and how easy it was to spread on my face. It didn't take a while lot either. I left it on for probably 20 minutes. I was reading and forgot it was on! Most masks leave me running to the sink in 5 minutes frantically scrubbing them off!
When I went to rinse it off, that's just what I did, rinse it off. I didn't have to vigorously scrub it off. My face wasn't read or blotchy and felt SUPER soft and clean.
My only complaint is I that I had a slight break out on my jaw line. I wasn't surprised though. Most products break me out BIG TIME.  I used some toner and my morning it was gone.
Bottom line: I LOVE this mask and now use it twice a week. The breakouts have ceased and my skin looks great. I will be purchasing it again!
**I got this free for review purposes, but all opinions are 100% my own
If you read my monthly posts on Snail Mail freebies you may notice there are a few things there that I've won on Contest/Sweeps. I enter just about everything I see on Facebook, Twitter & Pinterest. Yeah it can be tedious, but hey, I spend WAY to much time online. You don't have to though. Just set a little time each day to enter away. One think I also do is bookmark giveaways that allow you to enter daily.
I've decided to post my winnings on this blog separate  from my monthly freebies. I just want to point out that people do win if you just enter!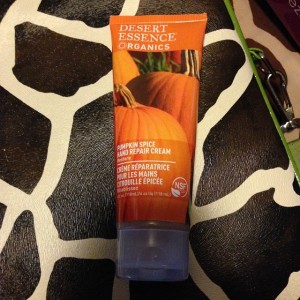 I won this in September on Facebook from Desert Essence. All I had to do was like and comment on the designated post. I won Pumpkin Spice Hand Repair Cream! It's a generous size too, no travel sample.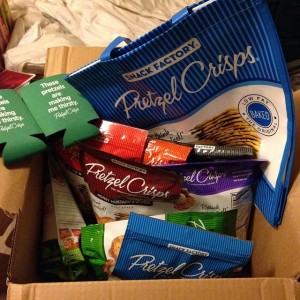 A few weeks ago I won what I thought was a bag of Pretzle Crisps. All I had to do (on FB) was tell them my favorite way to eat them. I said something boring like "I like them with laughing cow cheese wedges. Well 3 days ago this is what I got on my doorstep from UPS.
8 FULL SIZE bags of each flavor they make, two coozies and a large heavy duty (not plastic or tarpish) reusable tote.
Aside from braging I'm urging you to win. If you see a post I've shared on Facebook or Twitter ENTER!

Rose Hip Oil by Yumi Beautiful Certified Organic, Cold-Pressed, Pure Chilean Rosehip Seed Oil for Face, Skin, Hair, and Nails
I am Leary of oils but this product is amazing. The only drawback is, I'm not that fond of the scent. I use another cream after though so it's masked much better. After reading up on this I found you're supposed to refrigerate it for better results. I did and it felt amazing on my skin and chest. It seemed to absorb quicker as well. After a few minutes it's as though you didn't even put it on.
My skin is starting to appear brighter, feel softer and more evened out.
I also used it on my cuticles. Impressed with how fast it absorbed. I ususally don't use oils on my nails because I do a lot of typing and my keyboards get slimy.
I received one or more of the products mentioned above for free using Tomoson.com. Regardless, I only recommend products or services I use personally and believe will be good for my readers.
This site is becoming more than a couponing site. I'll now be doing reviews.

I love trying new things and I love sharing so why not?
This is for Foxbrim Hyaluronic Acid Serum. I agreed to try this because lately I'm all about serums and what they've been doing to my skin.
This Serum Includes Hyaluronic Acid, Vitamin C, Vitamin E, MSM, Jojoba Oil AND Green Tea.
Directions:
1) Wash area to be applied as you normally would. 2) Apply several drops to desired area. 3) Combine with your favorite cream/moisturizer to enhance benefits. Use twice a day, morning and night. You should expect to see results in several weeks
I didn't follow directions and skipped the moisturizer because my skin felt soft as is. Not a good idea. It got real tight, but not in a good way. Once I started adding moisturizer my skin was baby soft. Withing a few days I was glowy. My Bf noticed. My skin started clearing up as well! Love love love this stuff.
OH I must add that this isn't runny like most serums. It's really thick and unless you use moisturizer it can be hard to spread out. the first time I think I used a little too much
I received one or more of the products mentioned above for free using Tomoson.com. Regardless, I only recommend products or services I use personally and believe will be good for my readers.
Freebies are starting to roll in BIG TIME. Remember, If you follow me on Facebook I share them you can take advantage straight away! If not, by the time you read this, most are expired.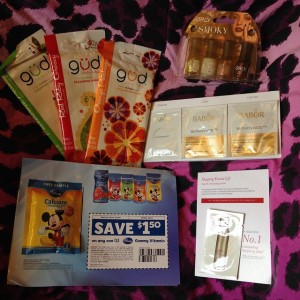 I won a 3-pack of Gud wipes by Burt's Bees. I don't even remember entering.!
4 PK of Orly Smoky nail polishes. Again, I don't know where I got these freebies from. The shades are Edgy, Highlight, Brush It On and Darkest Shadow. Fall 2014 Collection
Babor 3 piece skin care set
Clarins sample
Disney Calcium sample with coupon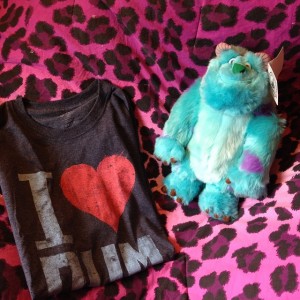 T-Shirt from Cruzn Rum
Stuffed Sully from Disney Movie Rewards club. He is soooo soft and good sized! Yeah and FREE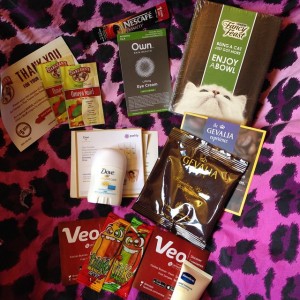 Barlean Omega packets.
Nescafe
Own eye cream
Fancy Feast can of food for my babies.
Won Dove deodorant from Poshly Giveaways
VEO candy, lotion and Gevalia coffee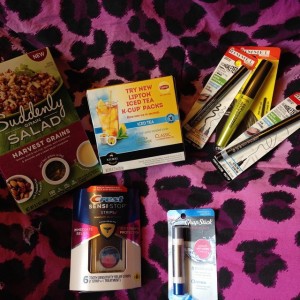 Suddenly Salad from Beatty Crocker monthly giveaways
K Cup Ice Tea (These are always available)
Crest strips from BuzzAgent
Chapstick from Smiley360
Rimmel mascara & eyeliners from Badge contest via Influenster.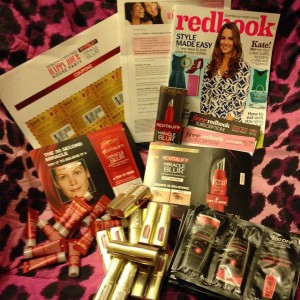 House Party Redbook & L'Oreal party with tons of goodies!
Needless to say September was a good month. What did you score?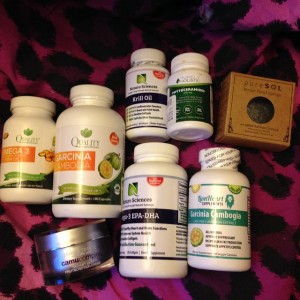 I almost forgot. I do a lot of reviews for various companies like Tomoson and BrandBacker. I get free product for honest review. This is September's loot. A few things are missing because I loved them so much they are gone.