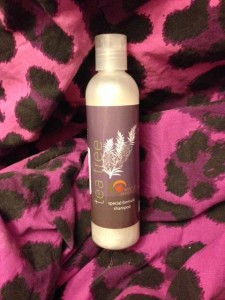 Tea Tree Oil Shampoo for Moderate Dandruff with Organic Lavender & Rosemary.  A natural treatment for skin blemishes, aids in blood circulation and stimulates cell renewal.
100% natural & organic. Free from Sulfates and Parabens along with other harsh detergents and additives.
Ingredients:
Aqua, Sodium Cocoyl Isethionate, Cocamidopropyl Betaine, Sodium Lauroamphoacetate, Sodium Methyl Cocoyl Taurate, Sodium Lauryl Glucoside Carboxylate, Lauryl Glucoside, Sodium Cocoyl Glutamate, Acrylates Copolymer, Coco-Glucoside, Glyceryl Oleate, Simmondsia chinensis (Jojoba) oil, Argania spinosa (Argan) oil, Melaleuca alternifolia (Tea Tree) Oil, Lavendula angustifolia (Lavender) Oil, Botanical Keratin, Rosmarinus Officinalis (Rosemary) Oil.
Price range from $14.97-$23.00 for 8oz. YIKES!
First of all I have to say that I love the smell of this shampoo. It's not what you expect from a dandruff shampoo much less Tea Tree. The tea tree isn't overpowering. It does feel great on your scalp though. I think it's the lavender that mellows it out.  I used this shampoo for a few weeks and loved it. My itchy scalp felt relief and the dry patch I get in the fall/winter went away.  I just wish they made an accompanying conditioner. I had to use a detangler and wasn't happy about it.
My only real complaint is the price. I love it though so I'll purchase more.
I received this product free for review purposes. All opinions are 100% my oww.  MizD