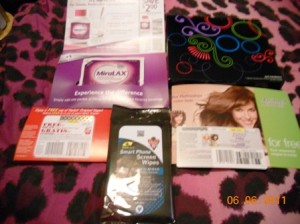 This is what has popped up in my snail mail box over the last week.
Dust Off smart phone screen wipes. The offer for them is over but they have an even better one right now on their Facebook page.
2 pk sample of MiraLAX with a $2 coupon.
Natural Instincts coupon ($16 value) toward a box of hair color. This was a FB promo that is no longer available.
Coupon for FREE Yoplait yogurt. Via FB page
U by Kotex sample pack with $1 coupon.
What a variety! 🙂 ~D