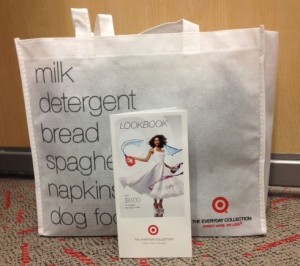 If you are shopping at Target today you might want to keep an eye out for this Recyclable Bag and Target coupon booklet being handed out at some stores today. I hope some of you are lucky enough to get it today!
There is no guarantee every store will have them, but it sure will be nice since it's a nice large sized tote and of course who doesn't love Target Coupon booklets! As always- when you check out using this (or any other recyclable bag) in the future- Target takes .05 cents off your order.
The booklet is titled "Lookbook" and there are six coupons inside with over $8 in savings. Here is a list of what's inside.
$2/2 Tide Detergent, Downy, or Bounce (ETS & Tide Pods) Target Coupon Lookbook x1/31
$1/1 Up &Up Diapers 60 ct+ Target Coupon Lookbook x1/31
$1/1 Campbell's Go Soup Target Coupon Lookbook x1/31
.75/3 Campbell's Soups (Soup at Hand or Microwaveable) Target Coupon Lookbook x1/31
$4/1 GE Reveal Light Bulb Pack $4 or higher Target Coupon Lookbook x1/31
FREE Birds Eye Steamfresh Frozen Vegetables 10 oz+ wyb 2 Fish Items TQ Lookbook x1/31
*Mrs. Paul's or Van de Kamp's 10 ct+ Fish Sticks or Fillets