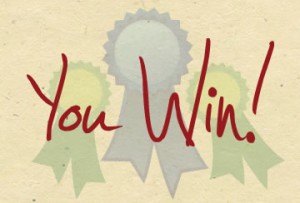 In addition to seeking out the newest coupon and freebie offers I also love sweepstakes/contests. I win some, I lose many, but I still have fun!  Over time I've learned how to identify reputable sweepstakes and how to increase my odds of winning. Follow these seven tips to safely enter online sweepstakes and increase your odds of winning:
1. Protect Your Data: Avoid entering any entirely private data, like a Social Security number. Legitimate sweepstakes companies will not ask for it. Legitimate companies will ask for your date of birth, mailing address, e-mail and possibly a phone number. Follow your instincts and don't enter information that makes you feel uncomfortable.
2. Never Pay Money: I repeat..  Never. Pay. Money. Legitimate sweepstakes opportunities sponsored by companies whose names you will recognize are available online for FREE. If a site asks for a fee, bank account information, or a credit card number, exit immediately!
3. Seek Reputable Companies: Nationally-known companies like P & G, Revlon, Clorox, and Dove routinely sponsor sweepstakes directly through their websites, as do magazines like Good Housekeeping, Redbook, Lucky, and Self. These are great sources for safe sweeps.
 4. Check the Internet: Check your favorite online stores and sites monthly for sweepstakes and contests. You'll have more fun entering sweepstakes through familiar stores and sites. You may also want to like your favorite company on Facebook. May are hosting their giveaways through their FB pages. *Make sure it's the actual company's site though.
5. Follow a Blog: MizCouponista.com posts sweepstakes, but also try a dedicated blog site like I Love Giveaways.com, which list current sweepstakes along with their rules and links to enter.
6. Play the Odds: Find the number of prizes awarded along with odds of winning by clicking on the sweepstakes "Official Rules" page of any sweepstakes. Rule of Thumb: only enter contests giving away 1,000 or more prizes.
7. Know the Rules: Read and understand the judging criteria for any entry that requires a photograph, written response, or essay. If a contest entry requires something creative, read the official rules and understand how items will be judged. Stay within word requirements, style, and file size.
Good luck!
~D