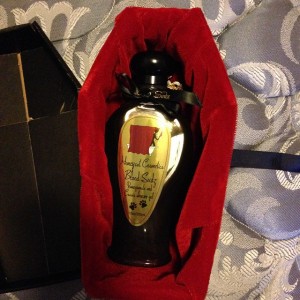 Honeycat Cosmetics is now one of my favorite companies. They are fast shippers, careful shippers (meaning my product is pristine) and they are generous.
Blood Sudz Shower Gel
Cat got your blood? Honeycat has a fangtastic tribute to Vampire lovers everywhere!
Blood Sudz is positively gushing with skin nourishing ingredients! Shea butter (ultra rich moisturizer), sweet almond oil (rich in vitamins A, B1, B2 & E) and apricot kernel oil (easily penetrates the skin's surface). The exotic citrus aroma of pomegranate and the undertones of black currant in cassis will leave you dying for more!
16 oz. $20
Here is the outside the the box.  I LOVE IT! There is even a little velvet pillow under the bottle. 🙂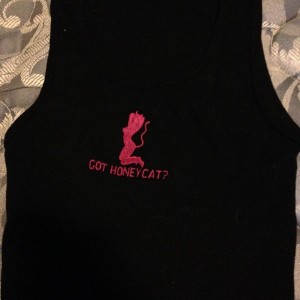 A sweet freebie. A little too small, but I'll still wear it with pride!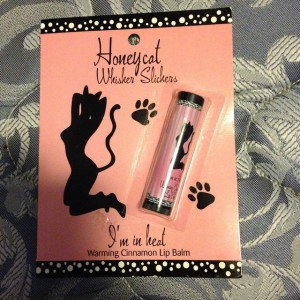 Yet another freebie:
I'm In Heat Whisker Slickers
Girls, this lip balm is outrageous! Cinnamon, ginger flavored with an extra bit of spice. Free of animal products, and petroleum. Vitamin E enriched. Get ready for the tingle! You'll have the hottest pucker in town!
$6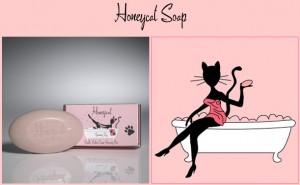 Vanilla Cream Grooming Bar
This picture is from their website. I admit I ripped it open right away to smell it YUM and use it. OH it left my skin so soft!
Splish, splash while you're taking a bath, nothing could be better than that! Rub, dub just relaxing in the tub purring like a sexy Honeycat. This vanilla buttercream soap is absolutely yummy! Shea butter, aloe and sweet almond oil make this soap a feast for your skin. We know you're going to love it!
Price:
$6.00