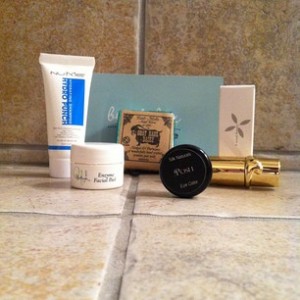 This is my second BeautyBox 5. Next months will determine if I keep it or not. It's not looking good. Here is what I got. BTW aside from the Lip Shine (shiney gold tube) everything is tiny this month.
Nume Hydro Punch. It's a hydrating shampoo. It irritates me when I get a shampoo sample, but not conditioner. I have to use BOTH.
Goat Haus Dairy Bath Melt. Meh, I don't take many baths. Maybe this will give me an excuse.
H.Wood.Beauty Lip Shine. I don't like the color. (Poppy) I might take a different picture so you can see it. I doubt will suit me as well.
Silk Naturals Eyeshadow (black lid) (Posh) I like the color. It's a shimmery light brown. It will blend well.
Nastassja Skin Enzyme Facial Peel. Umm ouch. I don't like those. LOL I'm glad because the full size is $45!!!
So that was what I got. If you want a box of your own to try click Sign up for Beauty Box 5!