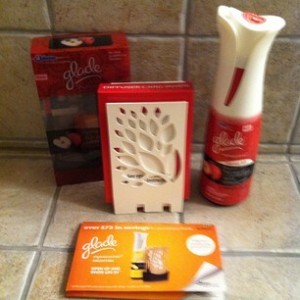 Hello, this is BzzAgent MizCouponista reporting for duty.

  This campaign involves smellies.  I get to try out the new Glade Expressions Collections. As usual  I was sent coupons for a free:
Glade Expressions® Fragrance Mist comes in a chic holder that blends with your décor for a burst of fragrance that's always out and available. Simply squeeze to release a long-lasting, light mist of fragrance; then refill the holder with your favorite true-to-life scent.

Glade Expressions® Oil Diffuser releases authentic and exotic fragrances without having to plug it in or find batteries. The trendy holder matches décor perfectly – and is also refillable – making it an effective, stylish option for layering true-to-life fragrances in all of your living spaces.
Here were my choices:
Cotton & Italian Mandarin – Bright, breezy blend of cotton and sparkling citrus, honeydew and sandalwood.*
Fuji Apple & Cardamom Spice – A ripe, spicy blend of sweet pears and crisp apple with a dash of cinnamon and clove that warms and invigorates.
Lavender & Juniper Berry – A lavender blend with fresh juniper berry, eucalyptus and rose.
Pineapple & Mangosteen – Blend of freshly cut pineapples and hint of tangy mangosteen, creamy coconut and passionflower.
*Available in Glade Expressions® Fragrance Mist only.
I chose the Fuji Apple & Cardamom Spice in the spray and diffuser. I love the smell of apples especially in the fall. I took my remaining coupons to work and they were gone in a flash! I reminded the girls I wanted feedback.
I'll keep you posted!
~D