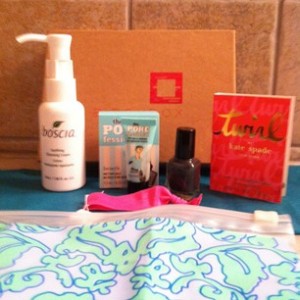 This month's Birch Box is my second one.  Here is what I got.
boscia soothing cleansing cream.
Benefit Cosmetics The POREfessional. This will be my first time using Benefit so I'm kind of excited. I also have JUMBO pores. 🙁
Color Club Birchbox Custom Polish. It's hard to see it, but it's blah. It is this dark steel-grey blue creme color.  It's not ugly but  it's not edgy enough to be pretty.  I'm thinking this will be a toes only polish.
Kate Spade New York "Twirl" perfume. I really like it. It's fresh and clean smelling, not overly flowery.
"twishband" pink (ick) Hair Tie. I have too much hair to even consider trying it. It would surely break!
The "tili" Bags is an extra. I don't care what it's called or that it has designs, IT'S. A. BAGGIE. 'nuff said.
So there you go, Birch Box for September.  Not too wowed, but not going to jump right in and try everything right away. If the meh factor continues I will cancel, but for now I'll keep getting them. OH I almost forgot… The list card gave an address for musician Tristan Prettyman downloads. Free music! I am an MP3 junky! If I don't like it, at least I didn't pay for it.
~D