If you read my monthly posts on Snail Mail freebies you may notice there are a few things there that I've won on Contest/Sweeps. I enter just about everything I see on Facebook, Twitter & Pinterest. Yeah it can be tedious, but hey, I spend WAY to much time online. You don't have to though. Just set a little time each day to enter away. One think I also do is bookmark giveaways that allow you to enter daily.
I've decided to post my winnings on this blog separate  from my monthly freebies. I just want to point out that people do win if you just enter!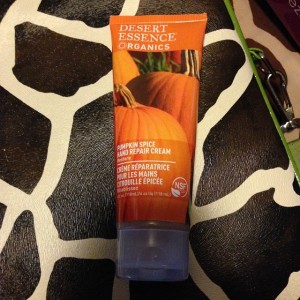 I won this in September on Facebook from Desert Essence. All I had to do was like and comment on the designated post. I won Pumpkin Spice Hand Repair Cream! It's a generous size too, no travel sample. 🙂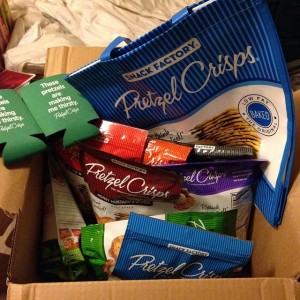 A few weeks ago I won what I thought was a bag of Pretzle Crisps. All I had to do (on FB) was tell them my favorite way to eat them. I said something boring like "I like them with laughing cow cheese wedges. Well 3 days ago this is what I got on my doorstep from UPS.
8 FULL SIZE bags of each flavor they make, two coozies and a large heavy duty (not plastic or tarpish) reusable tote.
Aside from braging I'm urging you to win. If you see a post I've shared on Facebook or Twitter ENTER!